Motorcycle security from the UK's number one
Motorbike storage in the UK
Asgard motorbike garages are recommended by our customers. Read this Asgard customre review.
"Thank you for contacting me. The product is a superb piece of kit and I am delighted with it. The quality is first class and I had it built in around three hours".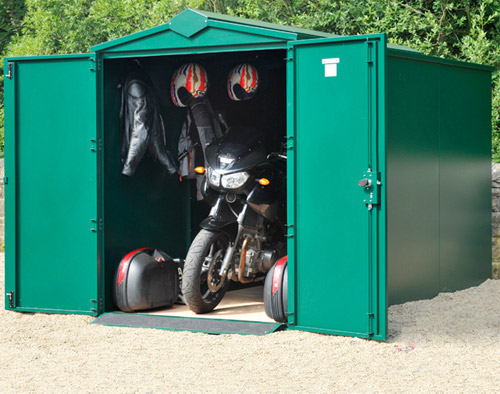 Why are our units so popular?
A unique garage ventilation system around the unit minimizes the build up of condensation inside the unit, keeping your bike dry and safe.
A vented side panel system allows exhaust gas and vapours to escape.
Fitted with our five point garage locking system - provides unequalled motorcycle security.
Large easy access double doors - you can walk in or ride in your bike into the unit.
Reinforced hinges - tough and strong to help to prevent forced entry.
Reinforced panels - extra tough to help to prevent forced entry.
Reinforced doors - for security.
Welded hinges - for extra security.
Reinforced locking - shrouded lock for security
Remember Asgard motorbike garages are the ONLY garages approved by the UK Locksmiths Association
Our motorbike storage units are available in a choice of sizes and fitted with tough heavy duty security features, for safe and secure storage. See the range of
Asgard Motorcycle Storage
.