Motorbike storage shed review
Motorbike storage garage customer comments
Reviewed by countless magazines such as Ride and classic motorcycle mag, our motorbike garage is very popular. Approved by the Locksmiths Association and fully weatherproof, this shed is a great way of securing your motorbike in or out of the riding season. Read Matts comments below - he was so eager he bought the bike shed before the bike!
"Some feedback for the motorbike shed I bought from you - It took me a while to get the concrete base made due to all the rain so I have only recently assembled it.
OverallI am pretty pleased with the motorbike shed. It was much better than I was expecting in a lot of respects - it seemed very good value for the quality of the build.
I found that the motorbike shed was:
Much sturdier than I expected
Delivered when scheduled
I like all the extras you are provided with - hooks , shelf, mounting pointsfor power
Very secure
Large enough for 3 pedal cycles and a lot of other stuff. Eventually Iwill get a motorbike for it!
It seemed like a lot of care had gone into the design
Good value - I think mine was discounted by £300. Compared with the priceof building a brick outbuilding it was very reasonable.
Thanks" - Matt Lockheart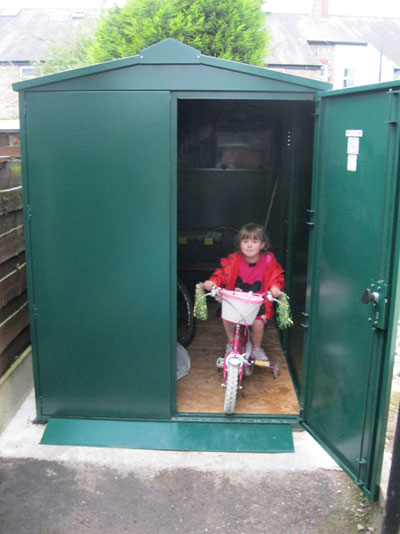 See more of our motorcycle storage range