Mobility scooter storage garage
Mobility scooter garage
Lock your mobility scooter safelyaway in a high security metal garage. This storage solution can hold up to 3 mobility scooters, meaning there is plenty of room for accessories, tools and other equipment.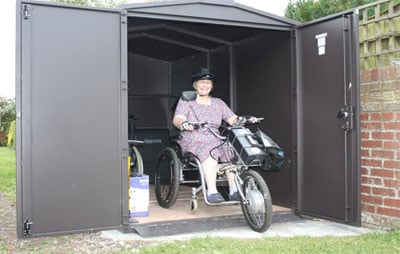 What is the mobility scooter garage unit made from?
The metal mobility scooter garage is made from robust weatherproof steel, for protection against the elements.
How does the mobility scooter garage unit work?
Security is a main feature of this metal garage, with reinforced components, a 5 point locking system, additional bolts and a pick resistant lock, this is the most secure way to store your mobility scooter. An access ramp makes driving in and out of the garage stress free.Heavy duty shelves and hooks are also included in this garage, maximising the available storage space.
Mobility storage customer comments
"Assembly was remarkably straight forward, given the number of parts and the weights and sizes involved. I had to do the assembly single-handed, but this was no problem".
Do you want to know more about Asgard Mobility scooter storage?