Asgard metal sheds - security features
Metal Shed Features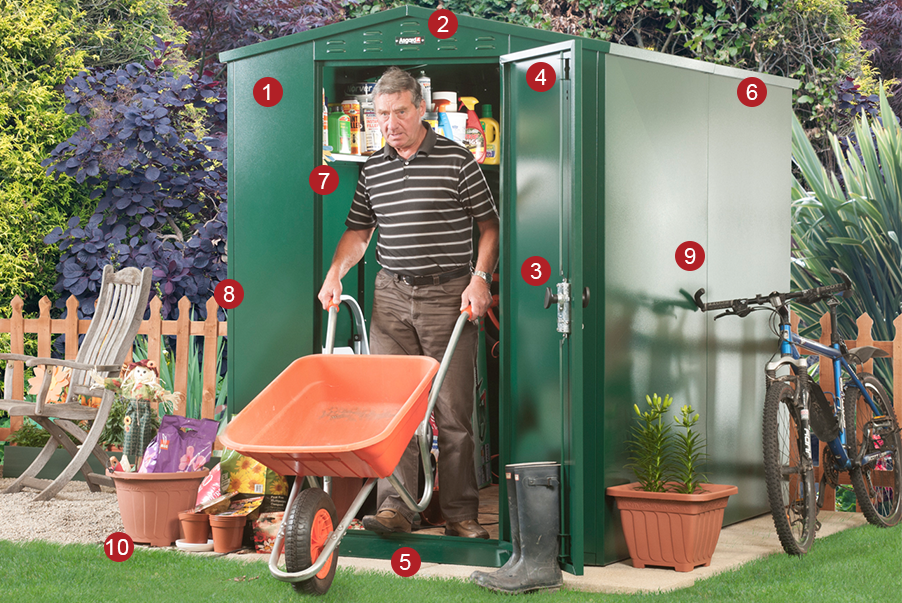 Flexistore 1522 shed with 3-point locking
1. Galvanised Steel
The Asgard metal sheds are made from strong, heavy gauge weatherproof steel to help to combat all types of British weather. Asgard sheds come with a 10-year anti-perforation warranty.
2. Ventilation system
A hidden ventilation system is hidden in the roof to minimise condensation, the constant airflow inside the metal shed combats mould. Some of our sheds feature additional ventilated fascias or side panels to boost ventilation.
3. Tough Locking system
All Asgard metal sheds feature either a 2-point, 3-point or a 5-point locking system. Both the 3 and the 5 point locking systems feature a pick-and-drill resistant lock rated to EN1303 to provide the best security for your belongings. Under attack, the handle is also designed to shear off preventing entry.
4. Dead Bolt Lock
To make it even more secure, the sheds feature an easy to use internal deadbolt lock.
5. Integral metal base and protective wooden floor
Asgard sheds are the only ones fitted with an integral metal base, this strengthens the shed and protects against rodents and the British weather. The metal base is also pre-drilled to allow you to bolt the unit to the ground, stopping thieves from prizing up the shed or moving in extreme weather conditions. We don't just stop there, all Asgard metal sheds have the option to have a protective wooden floor installed.
6. High-Security Sheds
Some of our 5-point locking sheds feature additional reinforced hinges, panels and doors to make them extra tough, giving them a Secured by Design (Police) and Loss Prevention Certification Board accreditation. Please see our high-security shed range for details.
7. Accessories
Accessories can be added to the metal shed to maximise the storage space. This includes shelves, hooks, racks, tool rails, lights and eyelets which will keep your possessions off the floor and easy to find.
8. UK Locksmith Association Approved
The Asgard metal sheds featuring a handle have been approved by the UK Locksmiths Association*.
9. No exposed screws
All screws are inside the shed for increased security, and the screws inside are hidden to make our sheds as child friendly as possible.
10. Manufactured in the UK
All Asgard sheds and engineered and manufactured right here in the UK.
See our range of garden sheds, bike sheds, or motorcycle sheds here.