Shed Extension Modules
Asgard Metal Storage units are designed for specific purposes; bike storage, gas storage etc. However, there are times when you may need a little extra storage space. This is where the Asgard all metal extension packs come in.
These packs are currently available for our Centurion, Centurion Plus, Gladiator, Gladiator Plus, Motorcycle garage and Motorcycle Plus sheds. Each extension has been designed to fit perfectly between the front and back sections of the above units giving expansion in 1.1 metre increments (3ft 7").
All extension modules are made from the same tough weather proof steel as the main units - All extensions are covered by our 10 year warranty.
Remember that each of our extension sections will add 1.1m (3ft 7") to your unit. Please ensure your base is long enough to accommodate the extra unit length. For details of recommended base sizes see our
base size section.
and adding 1.1m on per extension.
Before considering an extension module see our preconfigured sheds with extensions. These are as follows:
Centurion - Centurion Plus 1 (Unit and 1 extension module) - Centurion Plus 2 (Unit and 2 extension modules)
Gladiator - Gladiator Plus 1 (Unit and 1 extension module) - Gladiator Plus 2 (Unit and 2 extension modules)
Buying a preconfigured pack reduces the cost to you and makes ordering easier. If you require more extensions please call us and we will be happy to quote you. There is no limit on the number of extensions you can use.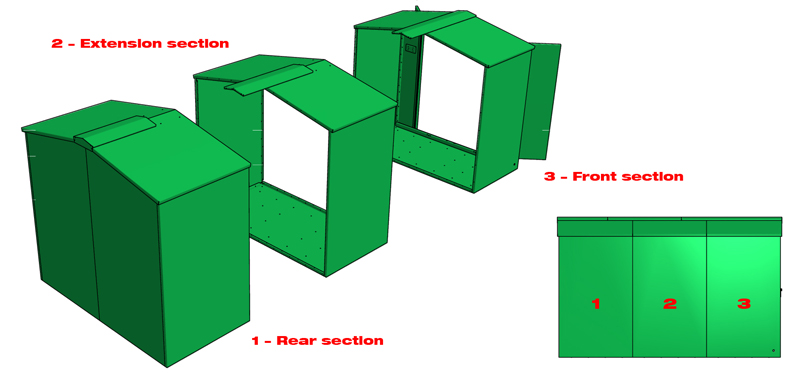 Assembly Instructions.
Each extension module is supplied with an assembly pack. This pack includes all the fixings required to bolt your new extension to your existing unit and to the ground. The pack also includes a step by step assembly guide and a unit leveling pack. If you have lost or damaged your extension instructions download a PDF copy from our assembly instructions page.