Metal bike sheds for home
Securely store two bikes in the twin bike locker
The twin bike locker is a great storage solution, if you have up to two bikes or even if you're thinking one day you might purchase another. Offering space saving, bike storage security, with a slim line design which allows the locker to sit comfortably down the side of a house or flat.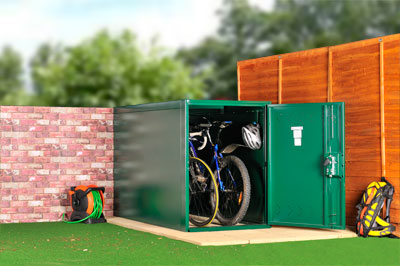 What is the bike locker made from?
Our two bike storage locker is made from the same resilient weatherproof steel as all Asgard storage units. Tough and weather proof.
How does the Bike locker work?
Impressively robust, the twin bike locker will take 2 bikes easily. This excellent cycle store also boasts the ability to be bolted to the ground for added security. Add in a pick resistant lock with a 3 point locking system and hooks for you cycling accessories and you have a great bike security locker.
Twin bike locker customer comments
"This bike locker is exactly what I needed to store my 2 bikes.I can fit my helmet and bike accessories inside.The service I received was good, although I did have to wait a few weeks for my locker as they are made to order. Assembly was simple enough, with easy to follow instructions. The unit seems very secure and no one has tried to break in yet. Overall it is a great product". TH
"The product is excellent and I am happy to recommend it to anyone considering buying a bike shed". Rasko