Manchester cycle theft advice
Cycle Theft
Whatever type of bike you have, it is essential to keep it secure. Here is a checklist of things you can do:
Always lock your bike if leaving it unattended
Choose a place to lock your bike where there are lots of people and a high level of natural surveillance
Invest in an adequate lock. D-shaped are usually the best
Register your bike through an approved scheme
Add your bike to your home contents insurance
Locking both wheel and frame will make your bike more secure
Apart from locking the frame, make sure that any quick release and detachable items such as wheels, saddles and lights are either secured or removed and taken with you
If your bike is stolen report it immediately! You can call or drop into your local Police Station or call 872 5050
If you suspect someone in your area is trading stolen bikes call Crimestoppers on 0800 555 111 or contact your local Trading Standards Office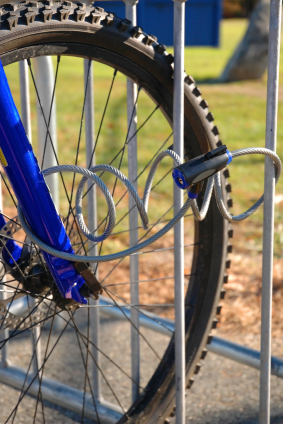 Security at home
Over half of all bicycle thefts take place on the owner's property, including thefts from garages, sheds and gardens. Make sure the place you keep your bike is secure and consider installing a steel loop or other fixed anchor point to a wall for locking your bike. If this isn't possible, try to keep your bike out of sight (even if it's inside the house or flat) so as not to attract the opportunist thief.
Insurance
It is a good idea to insure your bike. An easy way to do this is to extend your home contents insurance to cover your bicycle. However, make sure it covers you for thefts outside the home (eg if the bike is stolen from outside a shop). If your bicycle is particularly valuable, you may need to insure it separately and the insurer may require you to use certain specified levels of security.
Security Marking and Registration
Each year in Manchester alone hundreds of bikes are recovered by or handed in to the police. Unfortunately, many of the owners cannot be tracked down.
By registering your bike with one of the many registrations schemes available there is a good chance that should it go missing, you will get it back.
www.immobilise.com is a free national registration database for cycles and other personal property.
www.bikeregister.com call: 01689 862708 offers a variety of affordable registration schemes which also include tamper proof stickers a cycle marking pack and a transferable ownership log book.
Get On Your Bike
Manchester City Council has 606 cycle parking spaces/stands in the City Centre alone - for further information and a map of sites call the Traffic Section on 0161 954 9000
Since 2003 Manchester now developed a further 35km of cycle routes throughout the city and beyond, for details of these, maps and cycle event news call the National Bike Week Team on 0161 234 3562 (or 234 4011)
The government now has a national cycling forum and strategy:www.nationalcyclingstrategy.org.uk