Lawn mower storage reviews
Reviews of Asgard lawnmower storage
Our
lawnmower storage units
are the best way to keep your mowers and gardening equipment secure. These tough units are packed with security features such as 5 point locking, shrouded locks and pick resistant locking!
These great value storage sheds are made from heavy duty, galvanised steel making the sheds not only very secure, but also weatherproof.
The features don't stop there! Hidden in the roof are ventilation holes - these discreet slots allow air to circulate inside the shed even when its closed - reducing condensation without compromising the security of the unit.
Featuring an easy load ramp and available in a choice of sizes and colors, to suit any garden environment this is these are the ultimate way to protect your mowers and garden tools. Read more on the
main product page
.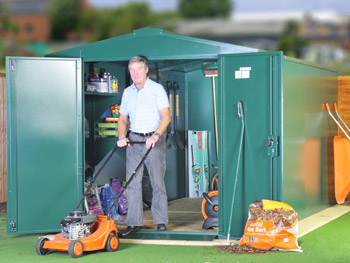 "Great idea - it just makes sense"
"Nice unit, really big enough for the mower and garden tools"
"....smart looking shed..."