Large Secure Cycle Garage
Secure cycle storage garage for up to 6 bikes
The Asgard cycle garage is our largest bike storage unit. Designed with the biking enthusiast in mind, there is room for up to 6 bikes and this is the perfect space to carry out any needed bike maintenance.
A large bike storage garage is a great way to store all of your cycling goods together.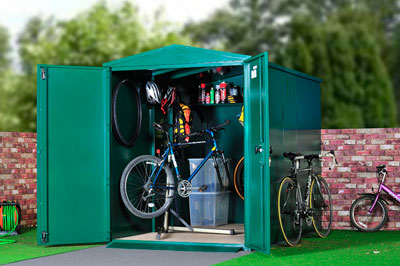 What is the cycle garage made from?
Like all Asgard secure storage units, this cycle garage ismade from strong, robust weatherproof steel panels making it incredibly sturdy and secure.
How does the cycle garage work?
As the largest of our bike storage units, this mammoth bike garage boasts a vast amount of features. The large reinforced double door access, fitted with a 5 point locking system, leads inside the unit and there is plenty of room for hooks and shelves to increase storage capacity. Reinforced doors, hinges and panels add increased security to the garage and a unique ventilation system will maximise airflow and minimize condensation.
Cycle garage customer comments
"I am extremely pleased with the bike garage. Build quality is brilliant and it was all assembled nicely by the team of installers". Mr Benson
"This cycle shed is great for my 3 bikes. I have loads of room for any maintenance I need to do and can walk around inside the shed with ease. The shelves and hooks are great as I can keep most of my stuff off of the floor and there is more room for manoeuvring around the bikes. I am very satisfied and I think I will be spending a lot of time in here!"
"As described the garage is a great size and again as mentioned on the website counts as garaged for my insurance purposes so very very happy".- Dan
Do you want to know more about the Asgard Cycle Maintenance Garage?