Large Motorcycle Security Garage
Metal Motorcycle garage unit
Motorbikes have never been safer than in the Asgard Motorcycle Garage. This is the only Locksmith Association Approved motorcycle garage available in the UK.
Keep your motorbike and accessories safe and secure in a garage abundant with features.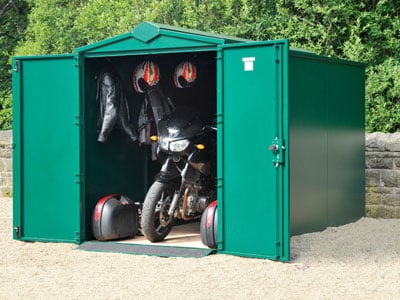 What is the metal motorcycle storage made from?
As with all Asgard products this motorbike garage is made from tough weatherproof steel.
How does the metal motorcycle storage work?
Featuring, large double doors and a ramp, making riding yourbike into the unit easy, an electric mounting plate kit, allowing you to add power to your garage and hooks for hanging helmets and leathers. Tough security features such as, pick resistant locks, 5 point locking system and reinforced parts keep thieves out.
Large Motorcycle Storage customer comments
"Thank you for taking an interest, my experience has been very good,the shed was very easy to assemble and overall it is a fantastic product, very good quality". Jason
"Easy to assemble andincredibly strong. A really impressive unit - Tip Top!" N.S. - Darlington
"As a summer riderthis is ideal for me. Much better than leaving my bike in my damp garage through the winter". S.Jasper -Essex
Do you want to know more about the Asgard Motorcycle Garage?