Large fishing tackle security store
Metal fishing storage unit
Offering incredible security, this fishing tackle storage unit is fantastic for storing your expensive fishing tackle and protecting them from theft.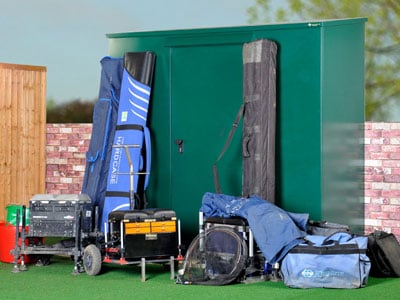 What is the metal fishing storage unit made from?
This unit is made from strong weatherproof steel, as are all of the Asgard storage units.
How does the metal fishing storage unit work?
Double door access makes it easy to move items in and out of the fishing tackle storage unit. An integral rain guard keeps your items dry while stored. Additional shelves and hooks are available to maximise on storage space.
Large fishing tackle storage customer comments
"Good unit. Lots of room for my kit and my sons, I can even get our trolleys in with roomto spare" N.H. - Leeds
"I semi retiredthis year and spend far to much time fishing or talking about fishing. Now Ihave the time to fish I have some very expensive equipment. After being a victim of a garage theft once before I treated myself to one of these units to keep all my new kit in. I have to say it really is a quality unit. Nice and tall, the locks are excellent quality and the whole unit feels very secure. The fact it is a walk in unit is excellent (and mostimportant to a man of my senior years) as it gives me easy access to my equipment with out too much bending. - R.P.
"An excellent idea - now I can leave all my equipment outside of the house and i don't haveto move the car out of the garage to get to my tackle" - A
Do you want to know more about the Asgard Fishing Tackle Storage Unit?