Keep your mobility scooter safe
How to keep your mobility scooter safe
Mobility scooters are of great importance to many people and are sometimes their only means of transportation. Having a mobility scooter or not, is the difference between being able to leave the house, or being trapped inside all day.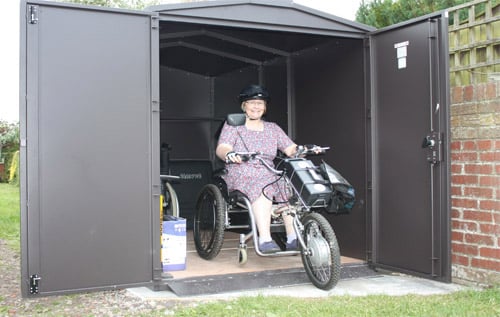 A young woman in Carlisle was left virtually housebound after her mobility scooter was damaged by vandals. Having left her mobility scooter outside, a group of thieves kicked down her garden fence and attempted to ride the scooter however they were unable to escape with it due to locked gates. Thieves made a second attempt at steeling the bike later that night in a different direction, but again were unable to exit thanks to cobbles and steps. The thieves abandoned the scooter in a neighbour's garden. Although the scooter wasn't stolen, it was left severely damaged and has left the owner of the scooter housebound. Read more>
Another incident occurred in Spalding this month. Cindy Maddison had left her mobility scooter in the landing of her apartment block, only for it to go missing. Cindy can only walk short distances and without her scooter she will have to rely on being driven around. Read more>
These thefts show that leaving your scooter anywhere that can be accessed by the public isn't secure. To avoid ending up like these ladies, keep your mobility scooter locked up.Asgard mobility scooter storage is a metal security shed that will keep your mobility scooter safe from theft and vandalism. This unit is made from tough weatherproof steel, has reinforced doors and panels and is equipped with a tough 5 point pick resistant locking mechanism. It has an access ramp and is large enough for you to ride the scooter in and out of the unit.
If a mobility scooter is the only way for you to get around, then you'll want to do your best to take care of it. Having somewhere secure to leave the unit is important as you don't want it to be left outside waiting for thieves to find it. If you have a garage or a shed keep it locked up when not in use. This may seem like an obvious thing to do, but recent news articles have shown that not everyone takes that safety precaution.
Read more on mobility scooter security