Is this the Best looking motorcycle storage?
Stylish storage for motorbikes
This great looking Motorcycle Garage is an excellent secure motorcycle storage unit for your motorbike or cycles. Built from our thick, heavy gauge galvanised steel panels, with a built in heavy duty metal floor and large double door access make the Asgard Motorcycle Storage unit perfect for keeping your motorbike and equipment safe and dry in or out of the riding season. This bike garage offers excellent motorcycle security using an exceptional 5 point locking system. This motorcycle unit comes with a heavy duty easy access ramp (slides under the unit), an electrical mounting plate for adding power to the unit, a hook rail, shelf and a vent system which allows exhaust fumes to escape.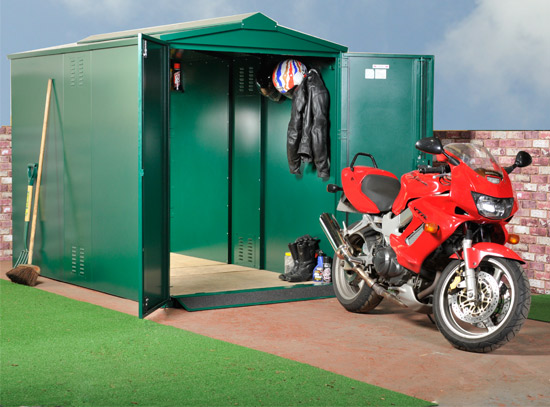 This unit is suitable for most "normal" bikes. Pictured is our Honda VTR Firestorm - This bike fits with space behind and to either side for dismounting or a 2nd (smaller) bike.