Asgard has the most reliable Gas Storage
Small and compact gas bottle storage
The Asgard compact gas bottle storage unit is designed to fit two 19kg gas bottles perfectly. This tough all metal unit has been designed in conjunction with Calor gas to offer the best Calor gas bottle storage solution.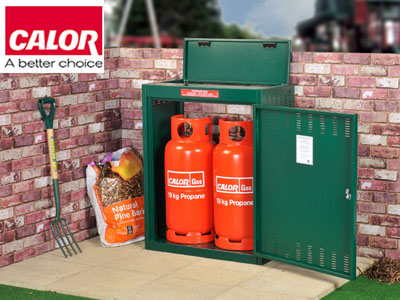 What is the Asgard compact gas storage unit made from?
Asgard gas bottle storage units are made from thick weatherproof steel like all Asgard storage products. As with all our UK best sellers, the unit comes complete with a 10 year warranty.
How does the Asgard compact gas storage unit work?
A large access door, fitted with a utility style lock and ramp enables the gas bottles to be moved easily in and out of the unit. A security rail enhances the unit, by enabling the gas bottles to be chained down. Ventilation is provided by a vented side panel which allows air circulation.
Gas storage customer comments
Asgard Gas Storage units are the secure, Gas Store solution for your LPG cylinder supply. Asgard gas storage units come in a variety of sizes and colours to suit the majority of needs and fit into the chosen location. All Asgard gas store units have a tough, galvanised steel construction, which is then further protected by exterior quality, weather resistant paint. Gas cylinders can be chained to back rails for extra security.As with all Asgard products, the compact gas store comes backed by our 10 year warranty.
"I have no complaints, my observations would be: 1. You came when you said you would. 2. The installation team were quick efficient and polite"
"A great seller thanks a lot."
"Very friendly service."
"An Asgard shed is one of the heaviest and best quality on the market and so their self weight and goods stored within them often mean that anchoring the base is not required for sheltered locations".
These unique units have a single lockable door (L or R) with universal locks to enable gas supplier to gain entry and the tops lift open for checking of regulator and access to shut off valves in case of emergency.
Do you want to know more about compact Asgard Gas Bottle Storage bottles?