I had my bike stolen from my garden
I am happy to give feedback on the fantastic bike store we now have in our garden
With such a large range of bike storage available from Asgard - it can be difficult to pick the right one!
Our Access 4 bike shed has proven to be the most popular with our customers and is an Asgard best seller. Looking at it, it's easy to see why! The Access bike shed is unusual, yet stylish in design. The idea is in the name. The lift up lid and double door opening make it easy to access all of your bikes and stored equipment.
To keep your bikes secure, this metal unit is fitted two shrouded padlock points which have been designed to help keep thieves out. The overall construction of the bike storage shed is equally impressive... A fully galvanised (weatherproof) construction and an integral full metal base give this heavy duty bike shed incredible strength .. weighing in at 18 stone ensures your bikes will be safe from theft.
An integral hidden vent system keeps air flowing around the bike store even when locked up ... this helps to keep condensation down to a minimum, so all your bikes and cycle equipment will be safe and dry .... all year round!
Asgard customer comments
"It was delivered at the time we were advised and all the pieces were stacked neatly in the garden for our return from work (with no plants damaged in the process).Putting it together was straight forward (although we were glad we had an electric screwdriver) and the colour means that it blends nicely in the garden and doesn't look out of place. My boyfriend was sceptical that he would be happy to leave his precious bikes outside the house, but when he saw how secure the unit was he happily agreed to put them (and their mud) in the unit rather than in the hallway. Thank you!"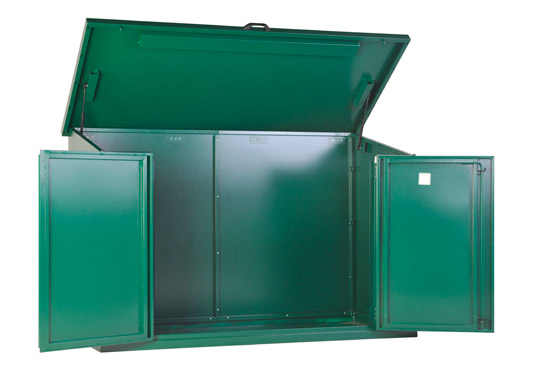 Galvanised, heavy duty construction and fitted with a range of security features - Asgard Access bike shed - store 4 bikes in a secure (DRY) metal bike store..
To see all of the Asgard bike storage range see our main bike store page