Home bike lockers, great bike storage
Home bike storage reviewed
All of our bike storage units are secure and reliable - they also look great in any garden. Read some customer comments below - for even more see our case studies section.
"I am absolutely delighted with my Asgard bike store, ordering was easy, the delivery was bang on time by two very courteous and helpful men. It was easy to put together, looks great and feels incredibly solid and secure.
I was going to buy a shed, but in reality they take up far more room, especially the height, will not last so long and are simply nowhere near as secure. Also I think the Asgard blends in very well for a small space. The photograph shows afour bicycles model. 10 out of 10 to Asgard, they cannot improve on perfection."
I have been very impressed with my Asgard Bike Storage Unit. It was easy to order and it was delivered to my house before the stated delivery time (by at least a week!) which was good. When it came to the assembly it needed 2 people but this was no surprise as we knew this from the website when we ordered. The assembly was very easy with good instructions. I was very impressed with the standard of manufacture as every hole for every screw lined up perfectly! Not once did we have to put a screw in slightly squint to make it match the corresponding hole. It has since kept our 2 adult bikes, 2 kids bikes, 2 scooters and a pressure washer secure and dry even in the recent awful weather. Using it is very quick, easy and convenient. It wasn't cheap but I think it is well worth the money and I have recommended to several of my friends and got quite a lot of interest when I proudly posted a picture of it on Facebook! - Mr M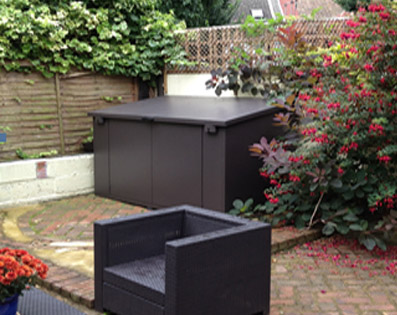 I have been very happy with my bike shed; delivery, construction and use have all been without any problems: The delivery people were helpful, rang me to say when they were coming, were on time, and carried the parts of the shed into my back garden ready for construction.The building of the shed was straightforward, and I had no difficulties at all; I was impressed with the quality of manufacture and everything fitted together precisely. I installed it temporarily on my back patio, which is fairly flat, so I didn't require any of the spacers that were supplied with it. In the Spring, I intend to build another flat area further back in the garden on which to put it, and move it there, if there is a sufficient break in the weather to do so.In operation, the shed has kept the weather out perfectly; I live in Lancaster, so this is one of the most testing places for an outbuilding; at least in terms of the amount of rain. As the shed is only temporarily installed where it is, I haven't bolted it to the ground, and so I plugged the bolt holes with silicon sealant. So altogether, the shed has met my needs very well indeed and I am happy that I bought from your company. - Mike