High Security Cycle Storage
Highly secure bike storage shed for up to three bikes
The Annexe is the High security bike shed from Asgard. If you live in a high risk area, this is the bike shed for you. Maximising on security features, you won't find a tougher bike shed. This bike shed is one of the safest ways to secure a bike.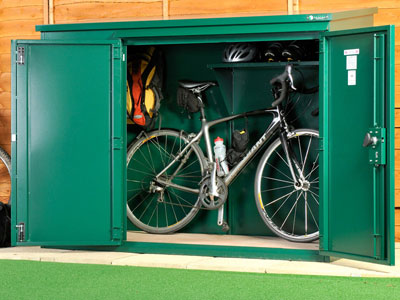 What is the bike storage shed made from?
Strong weatherproof steel panels make up this high security bike shed, which is the same material used for all of the Asgard storage units.
How does the high security bike shed work?
Additional security features, including reinforced doors,panels and hinges and the addition of steel bolts make this one of the toughest Asgard bike sheds. Rest your bikes on the integral metal base and pile in your cycling accessories. This bike shed has been approved to level 1 by the Loss Prevention Certification Board, which may help to reduce your insurance premium.
Annexe High security bike shed customer comments
"I keep my £4000 mountain bike in it. I know there is nothing safer". PR
"It was a gamble becasue this is a lot of money to spend online - on a shed. But WOW whata super product. So heavy and so strong. Easy to put together, great all round product. I have 2 carbon bikes in mine. Fit with room to spare for my kit as well". Ian
"I was pleasantly surprised when my bike storage unit arrived. The unit was very straight forward to buildas it came with a decent set of easy to read instructions. The unit is obviously well made, the finish quality is exceptional for the money. All the welding is tidy, the holes all line up, all the bits were there and it was delivered on time. The level of security is exceptional, bolts, 5 point,pick resistant locking, ground anchoring and reinforced steel tube sections give incredible peace of mind. Actually, if anything I would say these aremore secure than they need to be. A nice touch is the fact that the unitdoes not look like a bike storage unit, deliberate or not this element of discretion is just as important as the amount of locks. A passing thief would never know I have nearly 10k of bikes in there". ADH - Bucks