High security bike storage customer review
What do customers think of our high security bike storage?
Asgard metal bike storage units have always proven popular with our customers. Packed with security features and high quality British engineering skills these storage units are available in a wide range of sizes, styles and colours to suit all needs.
These customers chose our insurance approved bike shed designed to fit 3 bikes - Heavy duty construction, 5 point locking and a 10 year warranty make this the choice ofr anyone with a "best bike".
Read the customer comments section on the main product page or our case studies section here.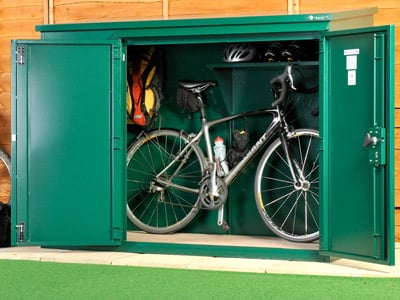 Customer comments:
"I am very happy with Asgard and the shed provided. The shed and installers both turned up when promised, and I am very pleased with the final result - a sturdy and well finished bike store" - Steve
"Having just moved into a new flat we wanted to store the bikes somewhere so chose this unit and it's done the job perfectly. A really solid unit that came on time, was simple enough to put together and has been invaluable ever since. It's well designed, looks and feels really sturdy, it's also able to accommodate pumps, my mini stand and other bits and bobs as we bought a shelf and hooks. I double checked with my insurance company that I was covered if I stored bikes in the unit and they confirmed I was.We store 3 adult bikes in it which is a bit of a squeeze but in conclusion I would highly recommend one if you want somewhere secure and functional to store bikes". - Dave