High quality metal sheds from Asgard
The best in secure metal storage
So why is this Asgard bike shed such a popular unit?? Lets take a look:
Heavy duty constuction
Weatherproof finish
Level 8 rated locking
Dead bolt locking
Double door access AND a lift up roof
Shrouded locking points
Bolts to the ground
Storage for up to 4 bikes
Looks great in any of the 3 standard colours.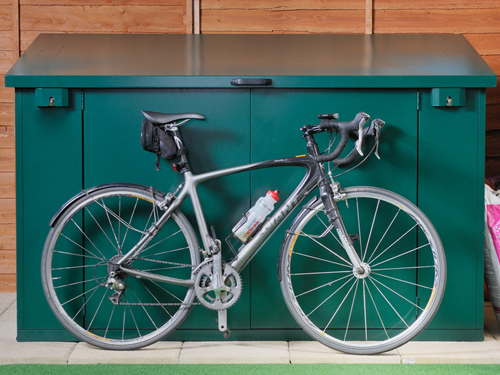 What the industry thinks:
Descent World "We wouldn't hesitate in recommending for keeping your pride and joy inside"
The Ride Journal "Short of using explosives I can't see anyway that someone is getting to my bikes".
BikeRadar "Excellent attack-proof design" - 4.5/5 stars
Cycling Plus said: 9/10 - Editors Choice
Customer comments:
"Hi Tracey , I am really happy with my bike shed - takes up a fraction of the space of my old wooden shed & gets more bikes in! What I also love is the peace of mind that my beloved road bike is safely locked up - takes away the nagging doubt of it being in a shed. The install team did a great, quick and efficient job - I would have been struggling on my own all day cursing! The only improvement I would like to see would be having one central locking system instead of two separate locks- though I appreciate the security of the current config" - Matt Turner