Review of the Asgard Motorcycle Garage
Absolutely delighted with the Asgard Steel Motorcycle Garage
The success of our motorbike storage range continues! As the only UK Locksmiths approved motorbike garage, they are hard to beat. Made from fully galvanised, heavy duty steel - our units are the heaviest on the market. 5 Point locking, pick resistant locks and shrouded locks make this a very secure storage shed. Read our customer testimonials below or get more details on the main product pages.
Customer comments:
"Hi guys, I Would like to leave the following feedback. I bought the largest Asgard Steel Motorcycle Garage to keep my BMW K1300GTSE safe, absolutely delighted with the quality of the product and was happy how easy it was to build. Although I would advise people to get access to a good quality electric screwdriver or 2 as a lot of my time was wasted recharging my 2 cheap screwdrivers".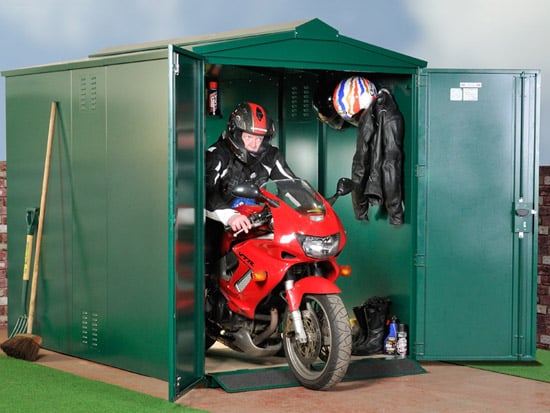 "The delivery guys were very helpful and polite and I was even sent a pot of touch up paint FOC after informing asgard I had made a couple of scratches whilst assembling the garage. I cannot recommend this company or their product highly enough. Thank you". - Stewart Davies, Bedworth, West Mids.