Garden security storage shed
Medium metal garden shed
Keep gardening equipment and furniture locked up securely inthis garden shed. This medium garden shed offers the necessary security for all of your garden belongings.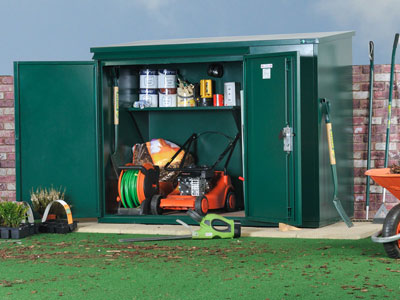 What is the metal garden shed made from?
As with all metal storage units available from Asgard, this garden shed is made from weatherproof steel.
How does the metal garden shed work?
Double door access makes it easy to manoeuvre items in andout of the shed. An integral raid guard keeps your items rain free and dry,while the tough 3 point locking system guards your items from theft. The available hooks and shelves provide extra storage.
Medium garden shed customer comments
"Very easy to put together. Much better than my rotten old wooden shed. The Asgard staff were very helpful, they made a great job of installing my shed" - D.S. Cheshire
"We are thrilled with our new Garden Store. Delivery was spot on - arriving as scheduled.Excellent in fact! It looks fab in our garden, matching colours with our new workshop. It has freed up space in this and simplifies accessing our bulky gardening equipment. It is both sturdy and robust. To sum it up, abrilliant buy!" - Helen
"After 2 years the units is totally rust free, the paint has not faded in any way and it all works as it should. A 1st class garden shed".
Do you want to know more about the Asgard Garden Security Storage Shed?