Fitting a ground anchor into an Asgard shed
How to fit a Ground Anchor in your Asgard shed.
Your bike is secure now you own an Asgard, so well done. However. Do you want even more security?? Then why not fit a ground anchor in your bike shed.
Why use a Ground Anchor?
Extra security for your bike. You can often get a discount on your insurance if you use one of our Sold Secure ground anchor packs.
How do you fit a ground anchor?
This is covered on our how to fit a ground anchor page here. Follow all these instructions before looking at this page.
Before you begin - Important points to note for fitting the Ground Anchor through your Asgard shed.
- The ground anchor must be secured into a good solid concrete. At least 100mm deep
- Before fixing the anchor, plan where it will go before bolting it down.
- Check for pipe work under the ground.
- We recommend the use of safety goggles when fitting the anchor.
- You will need a metal drill, with a bit size of 12mm.
- You mays also want a brush and a small hammer.
At this point we assume you done all the basic work outlined here.
1: Use the product as a template and mark out, then drill the holes through the base of your Asgard using a 12mm Metal drill bit.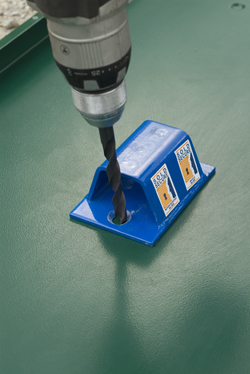 2: Notice that drilling has removed the paint and exposed bare metal.
YOU MUST NOW TREAT THE BARE METAL AROUND THE HOLES WITH A RUST INHIBITOR.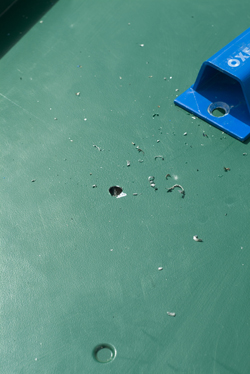 3: Place your ground anchor in situ over the pre-drilled holes in your concrete base and put the bolts in place and begin turning by hand.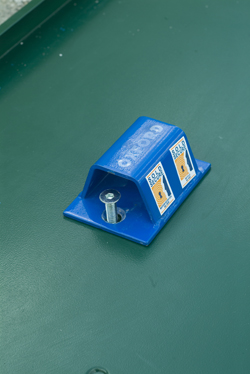 4: Finish screwing the bolts in using the supplied allen key.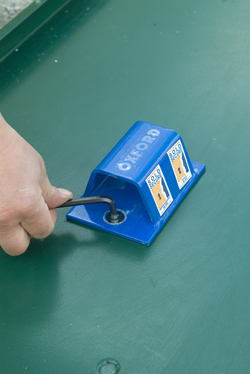 5: Screw all the way down flush with the product. The bolts should be flush with the top of the anchor.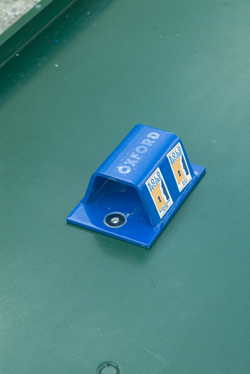 6: Finally tap in the ball bearings into the top of the bolts.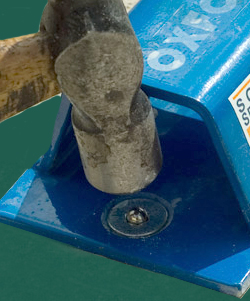 7: Use your ground anchor.!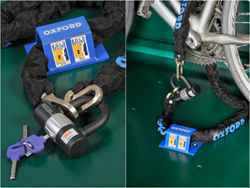 Note* If you have a wooden subfloor floor in your Asgard you will need to cut out a section of the flooring to accomodate the ground anchor AND the chain.
Congratulations!
Remember, You MUST treat the holes with a rust inhibitor.
Asgard do not fit ground anchors.