Don't have room for secure bike storage?
Where can I store my bike?
If you are short on places to store your bike, don't resort to drastic action like this!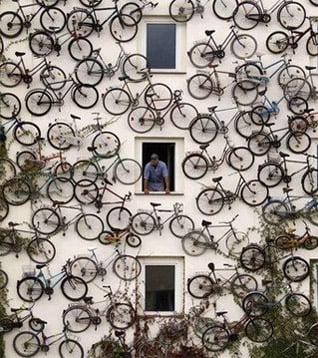 Even if you only have a small area to store your bike, at Asgard we'll be able to help you come up with a secure and safe bike storage solution.Our bike lockers have been designed to provide you with secure bike storage, that is perfect for small space. The compact size of our all metal bike lockers makes them perfect for sitting down the side of a house or flat.
Compact bike storage
Asgard bike lockers are made from weatherproof steel, which will leave your bike safe and dry. For security, this bike unit is fitted with a tough 3 point locking system and a pick resistant lock. This bike locker can also be bolted to the ground, so no one can attempt to carry your bikes away.