Classic Motorcycle storage from Asgard
Motorcycle storage from Asgard reviewed by classic motorcycle magazine
We don't think our motorcycle storage shed is a classic (yet) however they are great for storing Classic Motorbikes! With a heavy duty construction (weatherproof) and a fantastic 5 point locking system this is a great way to store your classic! In the roof and at the sides you will find ventilation designed to keep condensation to a minimum inside the unit, keeping your bike not just safe but also dry.
With a classic motorbike you will want to keep the bike dry and safe - well this could be the motorcycle storage units for you.... Much, Much cheaper (and a lot less hassle) than building a dedicated garage, these motorbike stores can be put up in an hour or so.
Heavy duty construction and an integral full metal base give this unit a whopping 64 stone of weight, with the pick and drill resistant lock and internal dead bolts, your bike should be pretty safe from prying eyes. Asgard motorcycle sheds are classed as "garaged" by most bike insurance companies, so you could save a few quid on your insurance..... you don't buy an Asgard you invest in an Asgard.
Oh did we mention?? This is the only UK Locksmiths approved motorcycle storage unit you can get!! So why not get the best in motorcycle storage and protect your classic motorbike in a heavy duty, Locksmiths approved, all metal shed from Asgard.
Read Classic motorcycles review below or find our more about our motorbike garages here.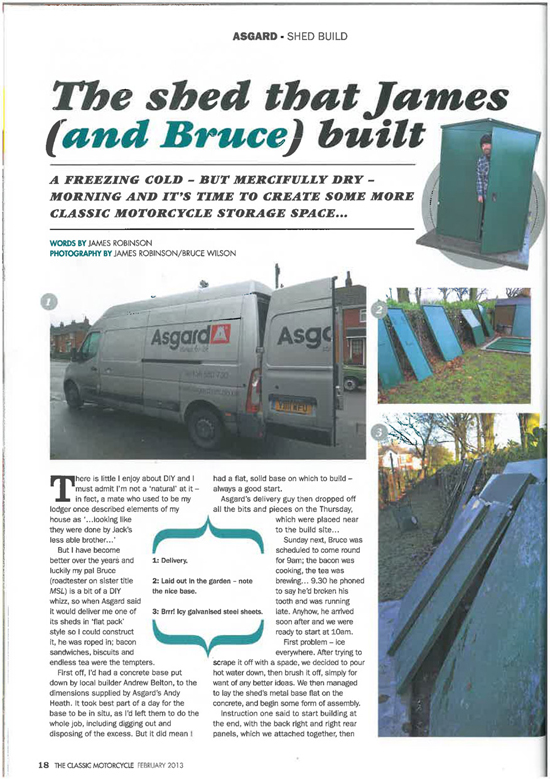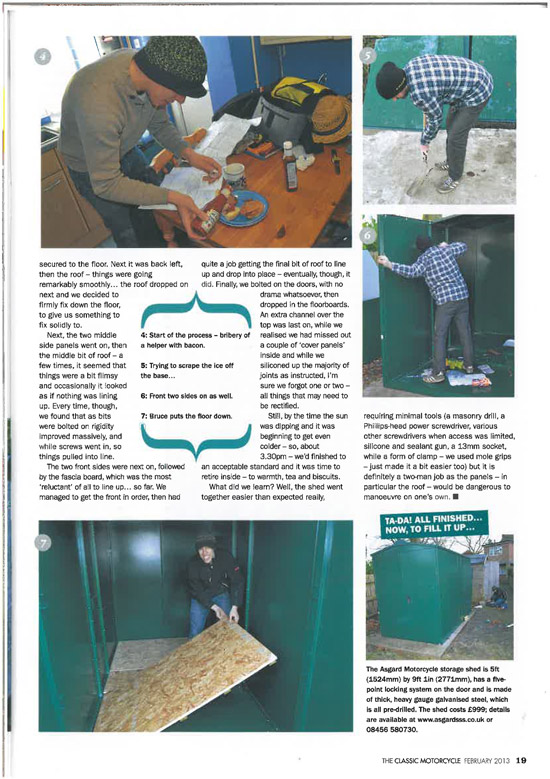 Open this Asgard review as a
PDF