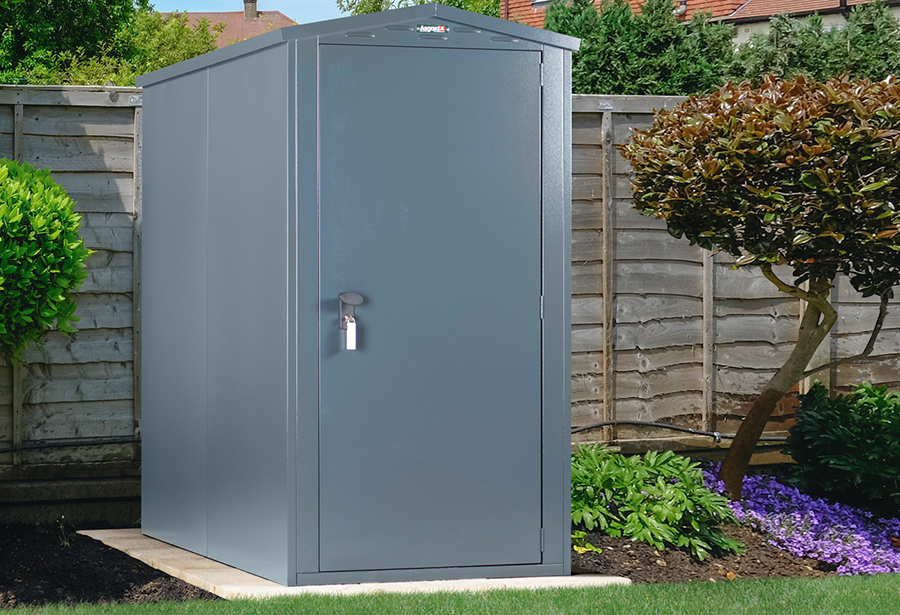 Asgard Secure Steel Storage is pleased to announce the latest metal garden/ tool shed in our collection, the Sentry. The Sentry shed is an all-metal storage solution from our manufacturing headquarters in West Yorkshire.

The Sentry is based on our successful Flexistore range of sheds. This secure metal shed differs from traditional sheds, due to its slimline design. With a width of 3ft 6", the Sentry has been designed in response to modern housing developments, where space can be at a premium. This new secure shed is the perfect fit down the side of a house or flats and will provide years of secure garden storage in a heavy-duty, hardwearing package.


Metal shed with base
The Sentry boasts Asgards high-quality build, constructed from thick, galvanised (weatherproof) steel, the Sentry is a heavy-duty garden storage solution. At 145kg in weight, it features an integral full metal base, stopping any water leaking into the shed during heavy waterfall on those rainy days. In terms of security, the secure shed has a heavy-duty 3 point deadbolt locking system, and a heavy-duty pick and drill resistant lock. Additionally, with the provided ground fixing kit, you can bolt the shed down for extra security. This shed has been designed to beat bike and garden theft.


Ventilated garden shed
With the constant weather change, sheds often suffer from condensation. However, the Sentry features two ventilation points designed to reduce condensation build-up. The hidden ventilation system can be found in the roof eaves and a fully vented front fascia - both designed to keep your tools and equipment safe AND dry no matter what the weather.


Shed accessories
As with all Asgard sheds, a number of storage essentials are available to help you make the most of your shed. Online, you can buy shelf packs, hooks, garden tool rails, ladder racks, and anchor points are all available.


Bike storage for 2 bikes
Versatility is the name of the game with Asgard sheds. The Sentry is available as a bike storage shed as well. The included bike hanger allows you to store a single bike off the ground, and a 2nd bike on the floor with room to spare for helmets, bags and other bike essentials. Giving you complete, discreet bike storage.
For more information see our Sentry Page here.

You can also find information on all our products across our social channels. Check out our Twitter, Facebook, Instagram, and Pinterest.