At Asgard we've teamed up with The Stanes, self-catering guest house.The Stanes provides luxury, modern accommodation, particularly for mountain bike enthusiasts and is situated in Innerleithen, southern Scotland's renowned mountain biking and cycle route area. Due to its fantastic location, The Stanes has accommodated a number of famous guests including the Devinci Global riders.
Facilities you can enjoy at The Stanes include fine linens, towels, toiletries and slippers.There is a washing machine and tumble dryer and upon arrival you will even receive a welcome pack including bread, milk, tea and coffee. At The Stanes there is also free parking and lots of local restaurants and pubs within walking distance. Within the local area you will also find golfing, fishing and other outdoor activities.
What makes The Stanes stand out from the rest? This is the only mountain biking friendly property in the area with an Asgard bike security shed. You heard it, now you can keep your bike secure on holiday too! The Stanes has our Gladiator secure storage unit,so you will have plenty of room for your bikes and other cycling accessories. Allowing you to sleep soundly, knowing that your items are safe. If this wasn't enough, The Stanes also have a workshop, where you can take care of any bike maintenance.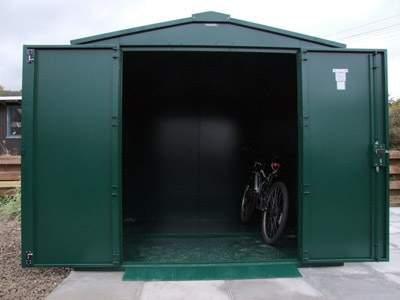 If this sounds like your ideal get away, for a limited time you can get 1 night FREE at The Stanes with any booking of 2 nights or more. All you have to do is quote ref ASG13.