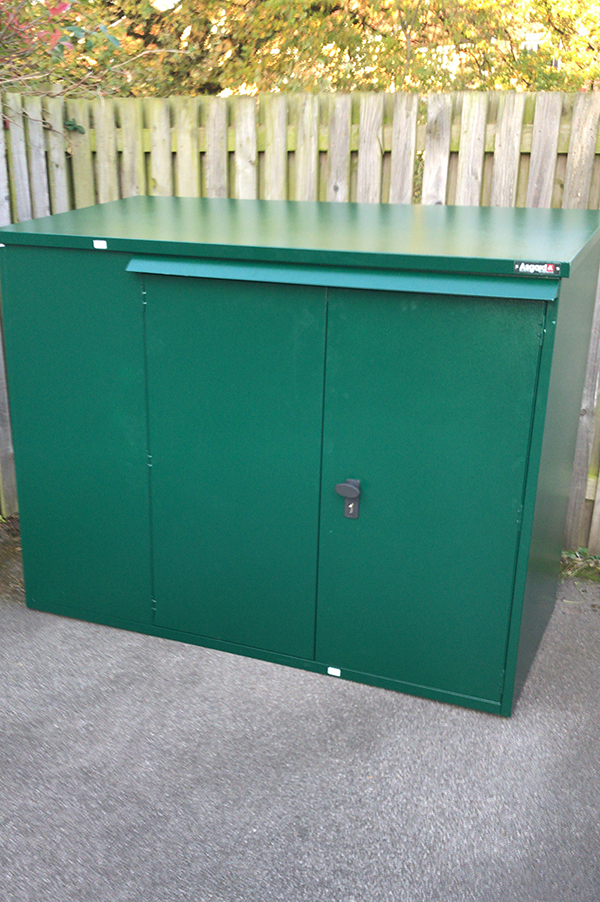 Congratulations to Matthew Johnson who sent us a review and a picture of his Asgard Annexe Bike Storage unit. The Annexe Bike Shed is Secured by Design (Police Approved) Locksmith approved AND Loss Prevention Approved, so this is as secure as it gets. Well done again to Matthew, who now has the difficult choice of High street vouchers.. M+S, Wiggle or B+Q.
The Asgard Annexe is our medium sized bike shed, suitable for storing up to 3 of your most precious possessions, your bikes. Made from heavy duty Galvanised Steel (that's weatherproof in normal talk) the Annexe is one of our Police, Locksmith and Insurance Approved sheds – so security is the key with this bike shed. Weighing in at an impressive 21 stone, the Annexe has a full metal base that bolts to the ground for the ultimate in Bike Security.
Still not sure the Annexe is the Bike Shed for you??? How about the double door access, giving you easy loading and unloading of your bikes…. How about the 5 point locking system, including dead bolts and a Pick and Drill resistant Euro Cylinder lock, with a snap off security handle. The Annexe also features a rain guard and a fully ventilated roof, keeping your bikes safe and secure, but allowing air to flow inside, keeping condensation down to a minimum, helping to keep all of your riding gear safe and dry.

For more information on the Annexe Police Approved Bike Shed see the main bike shed page.