Asgard - Green Code of Conduct

Are Asgard metal sheds sustainable?
With environmental issues being at the forefront of everyone's minds, including ours, our environmental impact has become more important than ever. At Asgard, we've been making a large number of manufacturing improvements over the last decade to reduce our impact, while still providing you with a low-maintenance, long-lasting product.
Skip to: Asgard Environmental Policy.
Sustainable Metal Sheds
The big question: are metal sheds sustainable? and are metal sheds more sustainable than wooden sheds?
While we can't make sweeping statements about all metal sheds, we do know our own. All our sheds are made from galvanised steel, and while steel is environmentally harmful to mine, it is infinitely recyclable without losing any of its strength. We use steel that features recycled steel too. This means that when your shed comes to the end of its life, it can be mostly recycled, and our sheds are over 99% recyclable!
At Asgard, we specialise in high-quality sheds that are designed to last with minimal maintenance. All our sheds feature a 10-year anti-perforation warranty, we've even had customers send a photo of their 10-year-old metal shed stating it's just like new! This is a key philosophy in buying sustainably; buy better, and buy less.
All Asgard sheds are manufactured with security in mind. Built from the inside out with integral metal bases, the sheds are designed to be strong, and long-lasting and help stand up to the British weather and opportunist thieves. Our locking mechanisms are EN1303 rated to the highest level of durability, temperature, and corrosion resistance too. This strength helps to not only keep your contents safe, but it makes the shed last longer too, withstanding damage and resisting attack. The integral base also provides rodent-proof storage, ensuring no animals (as cute as they are!) burrow into the shed and weaken the structure.
In terms of comparing our metal sheds vs. wooden sheds, we believe our metal sheds are more sustainable due to their long-lasting nature. While a wooden shed will need to be maintained with wood treatments and potential roof felting to maintain its strength, metal sheds don't.
Our Environmental Accreditations
As part of our sister company, Flexiform Business Furniture, Asgard is accredited to ISO 14001, an environmental management ISO certification. This ensures that we, as a manufacturer, are environmentally responsible in line with the ISO industry standard. Asgard is regularly independently audited to ensure we adhere to these standards. For more information on Asgard's accreditations, please click here.
Asgard is a Zero to Landfill Manufacturer
At Asgard, we are a zero-waste-to-landfill company through our waste management partners. We carefully separate all our waste to make it easier to recycle, this even includes removing our cardboard compactor as it made recycling harder.
Our waste is recycled where possible (usually around 95-98%) and any remaining waste goes through the 'Energy from Waste' (EFW) process, producing power. None of it goes to a landfill.
Our Manufacturing Improvements
In the last decade, Asgard and Flexiform have grown by 145% as a company, however, our environmental improvements have reduced our electric consumption/ £mil turnover by 42.54%, our water usage/ £mil turnover by 63.78% and our natural gas usage/ £mil turnover by 49.26%! That's a testament to our hard work at reducing our footprint.
Some of our factory improvements over the last 10 years include investing £16,000 on upgrading to efficient lighting, trapping heat by dividing areas, adding roller shutter doors and turning heating down or off in unnecessary areas. We've also reduced the voltage on some machinery, updated air compressors, and added newer, more efficient machinery, as well as added filters on drains to eliminate any oil waste. All these improvements help to reduce any impact we have on the environment.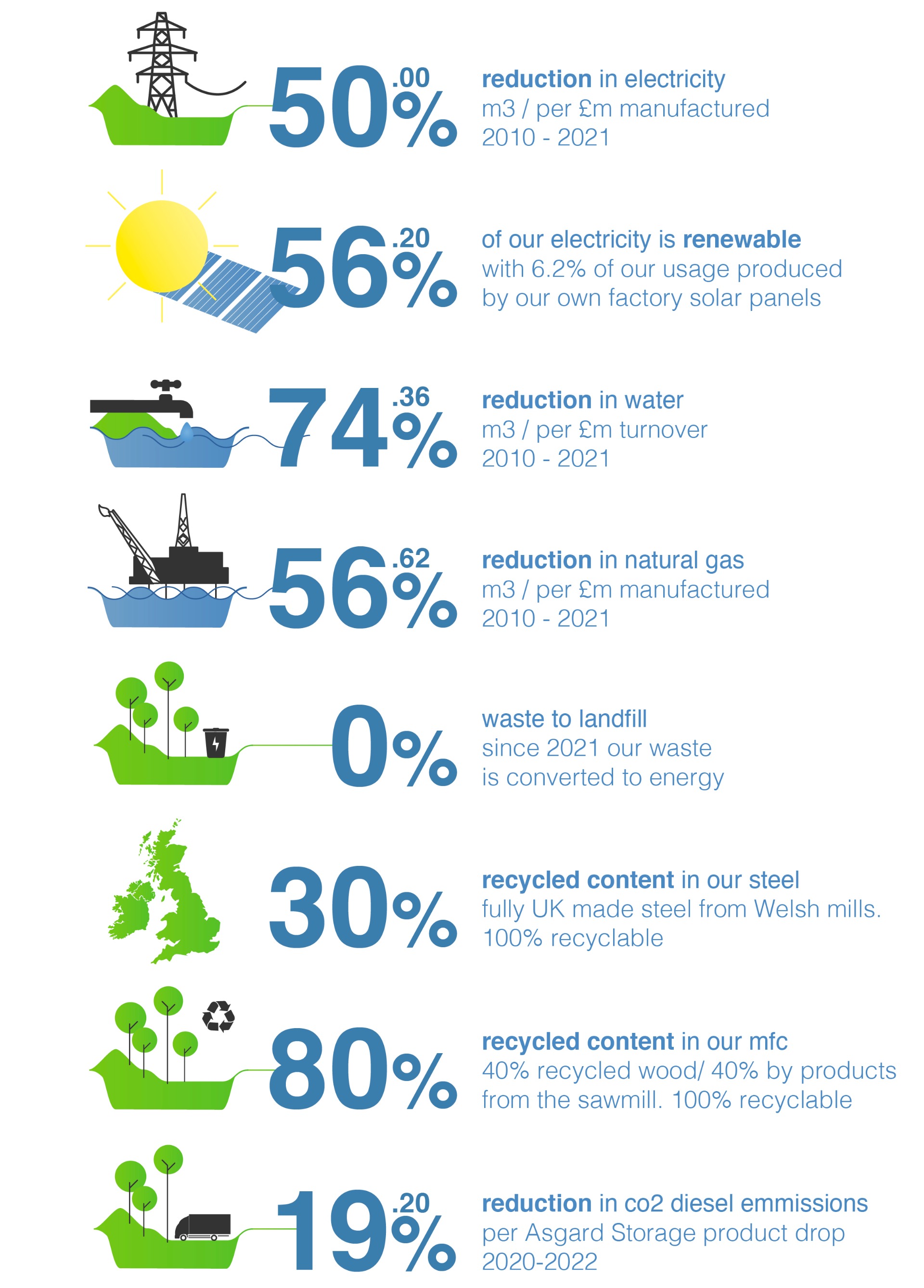 Delivering the sheds
Our Asgard HQ and manufacturing plant is based in West Yorkshire giving us a fantastic central location to deliver our sheds all over the UK. To make this environmentally friendly, all our deliveries are grouped per area to eliminate unnecessary or duplicate trips. We also encourage customers to purchase any shed accessories at the same time as the sheds by either including them in the price or offering bundle pack savings. This incentive helps us save packaging and additional trips either by ourselves or UPS.
All of Asgard's sheds have minimal packaging, using recyclable cardboard and blankets to protect the shed panels. This helps us save unnecessary materials.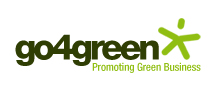 Asgard & Go4Green
We are happy to be working with
Go4Green,
an independent environmental group dedicated to promoting the positive aspects of environmental policies within Organisations.
---
Asgard Secure Steel Storage's environmental policy.
Our company policies and actions are designed to reduce our carbon footprint and encourage the protection of the environment. From manufacture, wastage, recycling, transportation, and procurement, we are always looking for ways we can minimise our environmental impact without compromising the service our customers count on. We like to think we are as lean and as green as we can be and we are going to keep it that way!
Asgard aims to sustain and protect our environment in the following ways.
Asgard is committed to good environmental practice, ensures that it will

meet

the standards set by environmental law, and fulfil its legal duty-of-care requirements for waste and disposal.

Asgard will reduce, reuse and recycle at every opportunity to improve its environmental performance.

Purchasing priorities will be given to buying locally, sustainably, and ethically.

Asgard will take responsibility for its environmental actions.

Asgard recogni

s

es this to be a long-term commitment to continually improve and update environmental practices.

Asgard gets the Go4Green badge for its range of garden sheds!

As a leading supplier of steel storage systems for over 5

0 years. Asgard can draw on a wealth of metal unit fabrication experience and has a long history of engineering and manufacturing excellence. Over the years, we have developed our range of secure metal storage units by researching and implementing

energy-efficient

manufacturing methods, as well as sourcing sustainable materials to use for our product
Our Net Zero Commitments
We aim to achieve Net Zero by 2042 for Scope 1, 2, and non-material related Scope 3 emissions, and Net Zero inclusive of Scope 3 materials by 2050.

In the next 5 years (2022 - 2027) we will decrease our emissions by 292 tCO2e, which is currently an average of 17.9% compared to our current baseline emissions. This splits down to a 12.8% reduction in Scope 1, a 21.7% reduction in Scope 2, and 27.9% reduction in Scope 3 (excluding materials). We will achieve this by investing in low-emission vehicles, power, machinery, and lighting and increasing waste recycling across our manufacturing site.
What are Scope 1, 2, and 3?
Scope 1, 2, and 3 are universal measurements of carbon emissions. Scope 1 is direct emissions that are owned or controlled by a company (for example, our fleet of delivery vehicles), and Scope 2 is an indirect emission that's caused by us using energy from the National Grid. Scope 3 is indirect emissions that are not covered in Scope 1 and 2 that are used but not controlled or owned by us, for example, the creation of materials we use like steel.

---
Reuse and repurpose.
Asgards' environmental commitment extends to the local community. As a manufacturer we have spare materials and products, Where possible we donate these extras to local community good causes. Find out more on our community page.
Click to see our sustainable bike sheds, motorcycle garages, gas bottle storage, and garden sheds.