Asgard work with local councils
Asgard Storage working with the Councils of Great Britain
Asgard don't just make metal sheds! We make other stuff as well. In 2010 Asgard teamed up with Wolverhampton Council to create a number of bespoke storage areas for residents at St Michaels Court.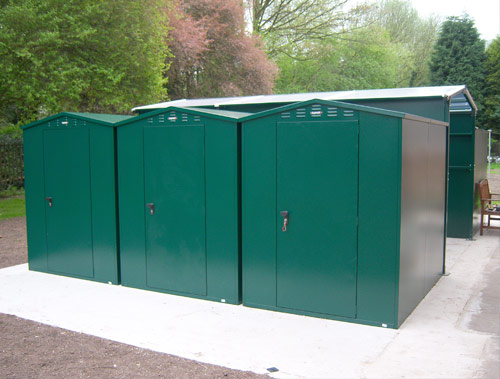 This large scale project required 68 of our Flexistore 1522 metal garden sheds. These were combined with a bespoke canopy system, which provided a waterproof walkway for residents and also an area for them to store their refuse bins.
The polycarbonate walkway leads from the car park to the entrance of each block of flats. Each walkway is made from the same heavy duty steel as the Asgard sheds - making the walkway not just strong, but also weatherproof.
Either side of the walkway sat three of our Flexistore metal sheds. These particular sheds feature both a vented fascia and a vented roof, giving air flow around the inside of the unit, keeping the contents not just safe, but also dry.
Each household at St Michaels Court now has access to their very own secure metal garden shed, allowing them to store items outside of their home. The installation of these new storage facilities has supplied families with spaces for toys, play equipment, bikes and more.
Asgard - Working with local councils to improve local areas for residents. Here you can see a combination of our Flexistore security sheds with our own bespoke canopy system, used to create a walkway through to the flats.
Read about the Flexistore sheds here
If you would like Asgard storage units for your company or council project, contact Asgard today.