Asgard in Kitchen Garden Magazine
Win an Asgard garden shed
The Asgard Flexistore 1511 has recently been featured in Kitchen Garden Magazine. Did you enter the competition for your chance to win one of our metal garden sheds? We will be announcing the winner soon, so keep your eyes peeled!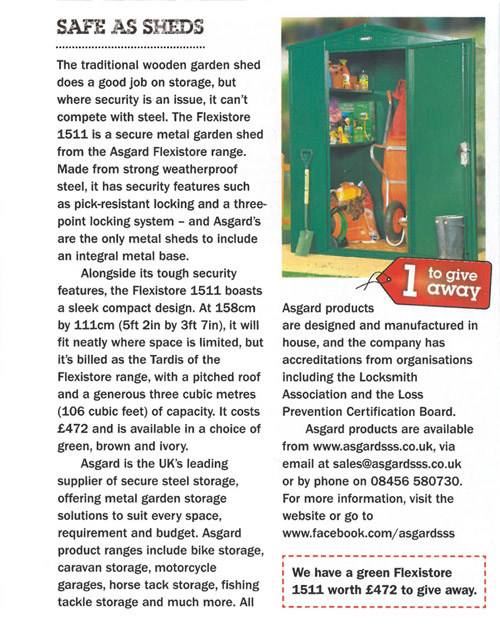 Kitchen Garden Magazine
Safe as Sheds
The traditional wooden garden shed does a good job on storage, but where security is an issue, it can't compete with steel. The Flexistore 1511 is a secure metal garden shed from the Asgard Flexistore range. Made from strong weatherproof steel, it has security features such as pick-resistant locking and a three-point locking system - and Asgard are the only metal shed to include an integral metal base.
Alongside its tough security features, the Flexistore 1511 boasts a sleek compact design. At 158cm by 11cm (5ft 2in by 3ft 7in), it will fit neatly where space is limited, but it's billed as the Tardis of the Flexistore range, with a pitched roof and generous three cubic meters (106 cubic feet) of capacity. It costs £472 and is available in a choice of green, brown and ivory.
Asgard is the UK's leading supplier of secure steel storage, offering metal garden storage solutions to suit every space, requirement and budget. Asgard product ranges include bike storage, caravan storage, motorcycle garages, horse tack storage, fishing tackle storage and much more.
All Asgard products are designed and manufactured in house, and the company has accreditations from organisations including the Locksmith Association, the Loss Prevention Certification Board and many products are not Police Approved.
Asgard products are available from www.asgardsss.co.uk, via email as sales@asgardsss.co.uk or by hone on 03456 580730. For more information, visit the website or go to www.facebook.com/asgardsss
We have a green Flexistore 1511 worth £472 to give away.