Asgard double bike locker locking mechanism
Tough bike locker - locking mechanism
The double bike locker from Asgard is a great way to secure two bikes in a secure, yet totally independant way. With two 3 point locking sytems (one at either end) this bike storage locker is popular with landlords or flat shares.
The locking system is pictured below - a proper handle is the key feature! This handle is designed to shear off during an attempted break in - As you can see from the image further security is provided via the steel plate fixed to the back of the lock (pictured) and the internal handle is there just in case you get locked inside!
Asgard metal bike locker - secure locking system - tough and hardwearing bike security.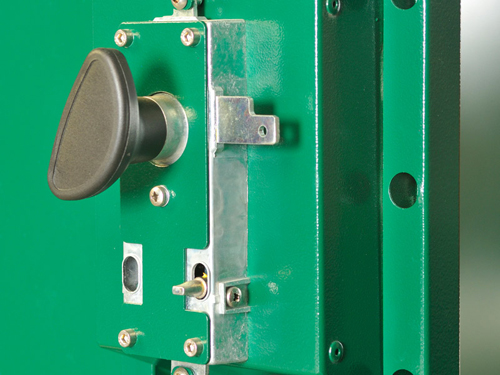 The Asgard
Double ended bike locker
features a superb 3 point, pick resistant locking system. This system is unique to Asgard and represents the top end of bike security.