Asgard Bike Storage Lockers - used by the Police by
Asgard bike lockers used by the Police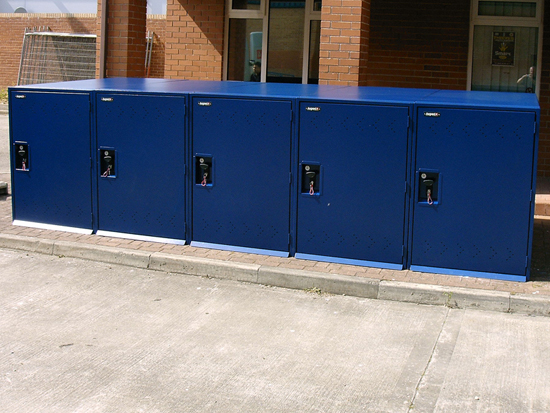 Asgard Cycle Storage As Used By The Police
Asgard bike lockers offer a great way of storing up to 2 bikes safely and securely. As with all of our approved metal storage, our bike lockers are made from heavy-duty, weatherproof steel. Security features include a 3-point locking mechanism (with internal deadbolts), and a drill and pick-resistant lock. All hidden away in a recess on the full steel door.
For even more bike security each of these 16 stone bike lockers can be bolted to the ground using the supplied fixing bolts - or try bolting a line of bike lockers together for even greater strength and security.
Storage For Bikes
Each Asgard bike locker is supplied with heavy-duty kit hooks – so why not hang your riding gear inside the bike locker with your bike.
Finally, if security is a problem, we supply each of our bike lockers with heavy-duty ground bolts allowing you to bolt the lockers to the ground - for even more bike security!
All Asgard bike storage is designed and made here in the UK by a steel storage company with 50 years of manufacturing experience. Each of our metal storage sheds has been tested and reviewed by the press and industry experts so you can be sure we offer only the best in secure metal storage. Each Asgard shed is supplied with a 10-year warranty and delivered to most of the UK mainland FREE*
Click here to see our bike lockers