The Access Plus 29er Storage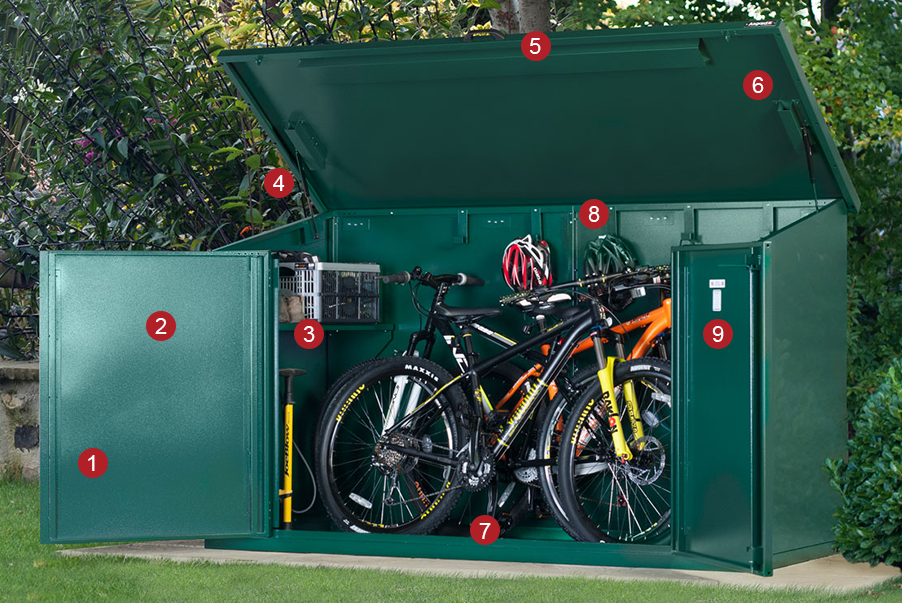 1. Made from Galvanised Steel
The Access Plus is manufactured from weather-proof, heavy gauge, galvanised steel.
2. Engineered for 29ers
Asgard engineered the Access Plus storage to accommodate the increasingly popular 29 inch wheel base bikes.
3. Shelves & Hooks
Shelves can be added to increase the storage capacity of the Access Plus, without interfering with the storage of your bikes. The accessories hooks make life easier when getting to your helmet and more importantly, keeps everything important off the floor.
4. No Exposed Screws
The Access Plus is built from the inside out and has no exposed screws which could cause harm. Instead we have made the Access Plus as child friendly as possible by hiding all the sharp screw ends.
5. Unique Shed Ventilation System
The ventilation system allows fresh air to flow inside the Access Plus, which in turn reduces dampness and the rotting of your accessories.
6. Gas Powered Easy Lift Lid
The gas powered lift up lid allows maximum ease of access to get things you need out of the Access. The lid is also accompanied by two front opening doors making it as easy as possible to get your bikes in and out.
7. Integral Metal Floor
An integral metal floor makes the Access Plus a very rigid and secure way to store your bikes and equipment.
8. Free 10 Year Warranty
All Asgard sheds come with a free 10 year warranty as standard.
9. Two Shrouded Locks with a Deadbolt
The Access Plus is secured with two shrouded locks made from galvanised steel, the internal dead bolt is easy to use but makes the Access Plus extremely secure.