Amazed at all of the extra storage
from the Asgard Access caravan storage shed
Ever thought of caravan storage? no not many do! Why make do with the unsecure wooden shed that your park provides?? Asgard produce a range of secure metal storage units, designed to store all of your holiday equipment throughout the year - in or our of the season! This customer chose the Access caravan store, based on the size and looks.
Customer comment:
"I am very pleased with my Asgard Bike Shed. I bought it to use at my caravan for the bikes but I was amazed at all of the extra storage.The delivery was very good and the driver even gave me tips on how to assemble it as my wife and I were doing it ourselves. We had no problem with the assembly at all."
The Access caravan storage unit
Our caravan/holiday home storage units have been designed to give easy access to all of your equipment, yet remaining secure enough to leave at a park unattended in and out of the holiday season.
The Access caravan store features a gas assist - lift up lid and a huge double door opening giving you great access to the shed contents, yet remaining exceptionallly secure throughout the year.
Security is provided thanks to the heavy duty, weatherproof construction - featuring a full metal floor, internal deadbolts, reinforced roof, reinforced panles and a superb 3 point locking system - The Access all metal shed - keeping your tools safe in and out of the holiday season.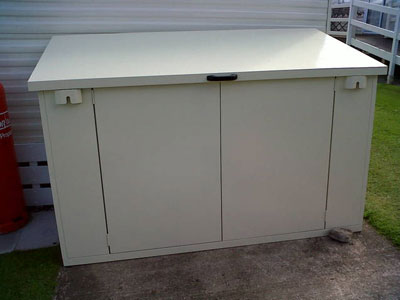 Customer comment:
"Quite a few people on the site have commented on the shed. So I told them, it not only looks good and blends perfectly with the caravan but it is also very sturdy and secure. I couldn't ask for more, 10 out of 10. Thank you." - Paul Musson
See our full bike storage range