The Asgard Access Metal Bike Shed
The Access Metal Bike Shed - Features
The Access bike shed is ideal for storing up to 4 bikes securely in your garden. Take a look at the key features of this 4 bike store to see what makes it one of our best selling bike storage units.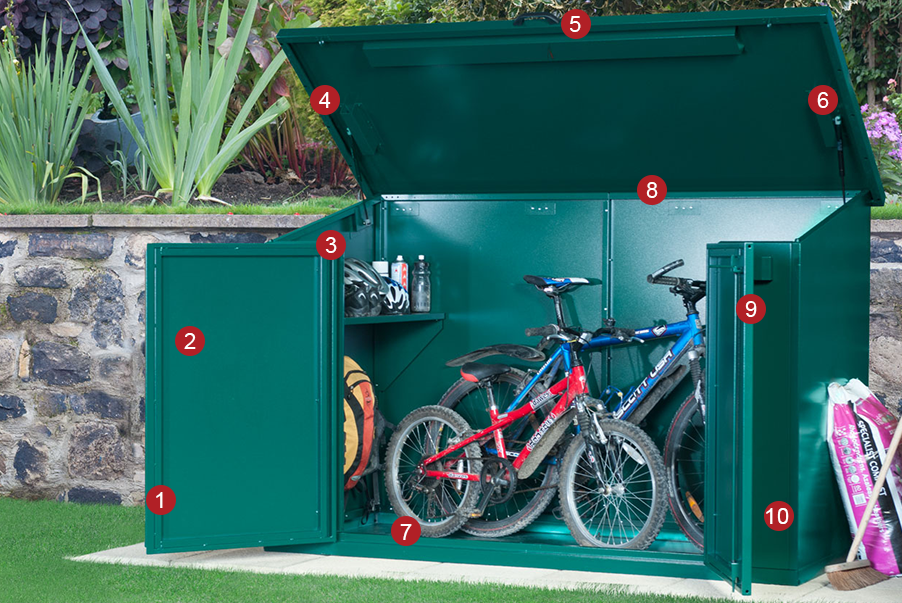 1. Fully weatherproof, all galvanised steel construction
The Access metal bike shed from Asgard is made from heavy duty, weatherproof steel - designed to keep the weather and the thieves out.
2. Free 10 year warranty
All Asgard sheds come with a free 10 year warranty as standard. UK manufacturing designed to last.
3. Bike shed accessories
Asgard bike sheds feature a number of "add ons" Shelving and hook accessories are available adding more storage space to your unit. Why not store all of your riding equipment in one safe and secure bike shed?
4. Unique shed ventilation
All Asgard bike sheds are fitted with a unique ventilation system to minimise condensation. Discreet holes in the roof allow air to flow freely inside the bike shed even when locked – keeping condensation to a minimum, helping to keep your bikes not just safe but also dry.
5. Gas assisted lift up lid
The Access metal bike shed has a both wide double door access AND Asgards unique gas assisted lift up lid. Giving you superb access to your bikes and riding equipment.
6. Easy assembly
The Access metal bike shed comes with easy to follow step by step instructions. An Asgard assembly service is also available – just select at the checkout.
7. Integral metal floor
For extra Security all Asgard sheds are supplied with an integral metal floor. A metal floor adds strength and security as the floor is integral to the fabric of the shed – adding weight and stiffness.
8. No exposed screws
All Asgard bike storage units feature no exposed screws or dangerous sharp edges.
9. Two Shrouded locking points
The Access bike shed is fitted with two shrouded locking points, - thick steel plates cover the locking points - designed to keep thieves out!
10. Securely store up to 4 bikes
The Access metal bike shed is a large unit, designed to store up to 4 bikes securely. Find out more about the Access bike shed.