Excellent colour match for my storage shed which had some damage prior to installation
Touch-up paint (large):
Asgard sheds are supplied with a 10-year warranty and have been designed to beat the weather, with a fully weatherproof design and inside-out construction. An all-galvanised, shed and a tough weatherproof powder coat finish ensure that your Asgard bike or garden shed is tough and durable, able to withstand the British weather no matter what it throws at us.
However, even sheds as tough as an Asgard can get damaged or scratched through everyday use. If the scratch is deep, you can expose the bare metal through the galvanised coating, which could result in rust, if left untreated.

Don't worry! if you scratch your shed. Simply need to brush on some Asgard touchup paint. By covering up any scratched panels you will prevent rust from forming and maintain your 10-year warranty.
Simply pick the colour to match your shed from the drop-down list and we'll send you a touch-up paint pot to cover up those scratches and help to prevent any possible corrosion.
All Asgard touch-up paint is the same RAL colour as your shed, so the match is near perfect, and the damage is as hidden as well as it can be.
This 250ml pot has enough paint to paint an entire Asgard panel, so there is a lot of paint in these pots for most needs.
Note: Due to postal restrictions and for safety we are unable to send Aerosol versions of our paint, we can only supply brush-on paint in pots.
Further details on postal restrictions and regulations can be found on the Royal Mail Website >
Product Code: PaintLarge
Print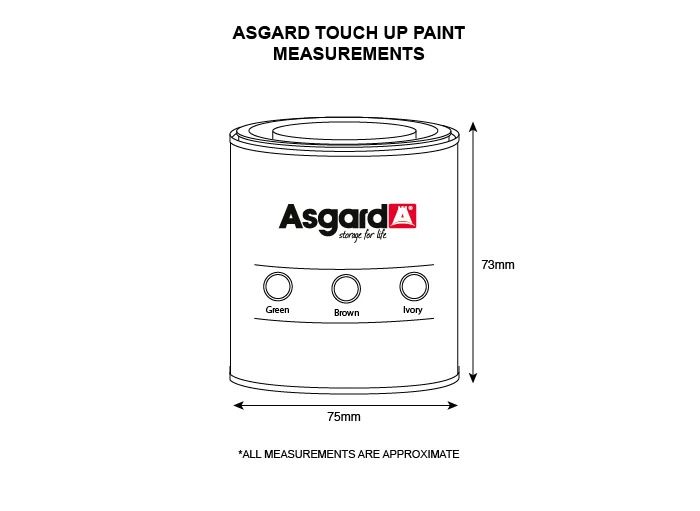 ,
INSTRUCTIONS:
1: Rub the affected area with fine sand paper.
2: Ensure the area is free from loose flakes of paint.
3: If the damage/scratch is deep and through to the bare metal apply a small amount of rust inhibitor.
4: Apply touch up paint with a small paint brush.