XX Large Secure Garden Shed
XX Large Garden security shed- The Centurion Plus 2
This huge metal garden shed is perfect for all storageneeds, from garden tools, furniture, bikes and playground toys.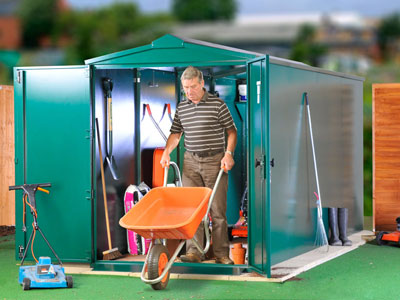 What is the Centurion Plus 2 garden shed made from?
Asgard garden sheds and all other storage products are made from high quality weatherproof steel.
How does the garden shed work?
The Centurion Plus 2 metal garage is fitted with a highly secure 5 point locking system, which makes it great for storing expensive items. Large, easy access double doors make storing large and bulky items easy and the unique ventilation system promotes airflow and reduces condensation.
Centurion Plus 2 Customer comments
"Brilliant, I have had 2 attempted breakins inthe last 6 months, and they never got in. The handle just sheared off and left my tools nice and safe inside".
"I am highly delighted with my purchase. The order was dealt with in a highly professional manner and delivered within the time scale. The erection of the shed was completed by extremely competent staff".
Do you want to know more about the Asgard Centurion Plus 2 Metal Garden Shed?