Asgard bike lockers can store brompton bikes
Could this be the new Brompton Bike Locker?
A to B magazine take a look at our double bike ended locker .. and they use it the wrong way ... but we like it.
Instead of using our locker to fit in two "normal" bikes, they filled it full of Bromptons!
The double bike locker is made from heavy duty, weatherproof steel and weighs in at almost 16 stone in weight. At both ends you will find a heavy duty door - also made from the same heavy duty steel - Each of the doors has its own 3 point locking system with independant locking - so two people can store their bikes independantly of each other.
Inside the unit there is a steel barrier with additional locking points allowing both bikes to be seperated and further locked securley inside the unit. - Ideal for shared occpancy areas such as flats or rented accomodation.
See more information about our double ended bike lockers here.
Bike locker review:
Do you have a Brompton or "other" folding bike? Do you have more than one folding bike?
Then our Bike locker could be the bike storage unit for you. Six Bromptons bikes fit in with ease.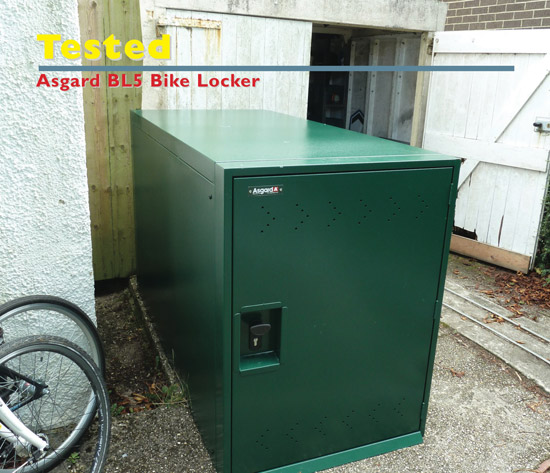 "If you can think of a purpose for a steel shed, Asgard probably makes it."
"The sort of thing you want to steer your employer towards."
"Ideal in the shared space of a subdivided house or block of flats, bridges the gap between the cut price domestic sheds and the more expensive commercial designs." - A to B magazine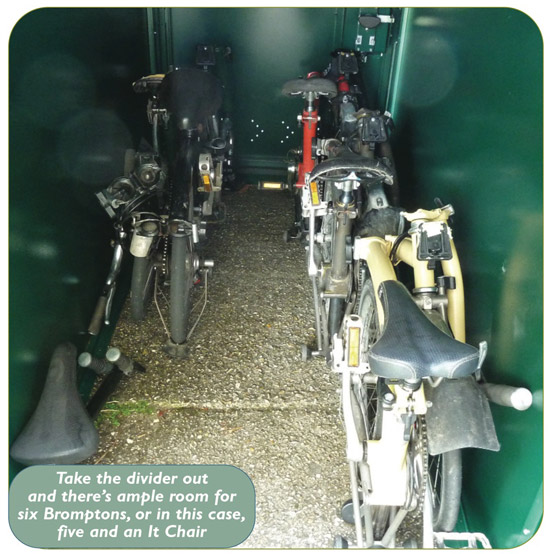 More Asgard bike storage can be seen here.