The alternative way to store two bikes
The New Double Bike Locker from Asgard
Store both your bikes in this compact bike locker. The Asgard Twin bike Locker is the alternative way of storing two bikes securely in a discreet manner. Unlike other bike stores the Twin Bike Locker is accessed from the end so the width of the unit is kept to a minimum - ideal for use down the side of a house or flat. The unit has been built as a space saving storage unit, and can easily house up to 2 large adult bikes as well as cycling gear, helmets and equipment safely and conveniently. The double bike store is ideal for areas where space is restricted but bike security is important. The new Twin Bike Locker joins the existing Asgard Bike Storage range, which currently offers secure galvanised steel storage units for cyclists who own a single bike to those who need secure bike storage for up to 6 bikes in the larger Centurion Bike Store.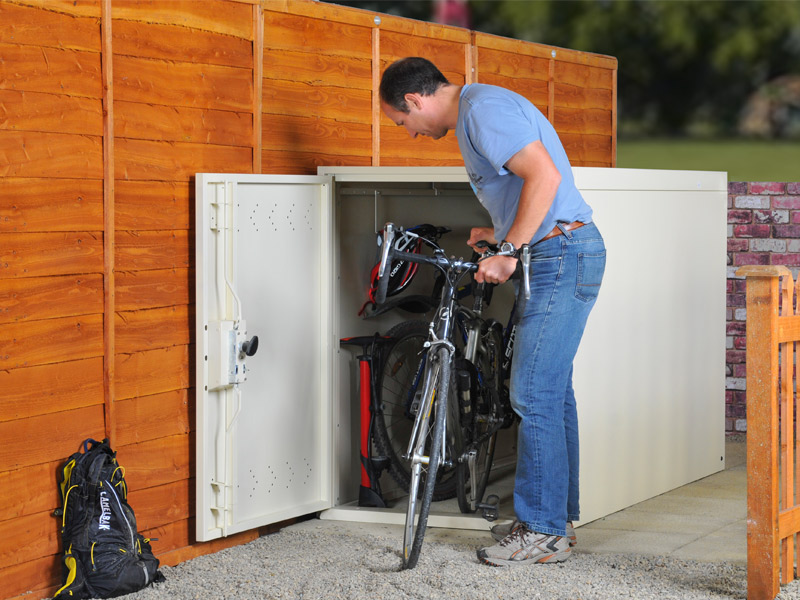 Bradford, West Yorkshire, August 2010 - Asgard has launched its new Twin Bike Locker which provides high security storage for up to 2 adult bicycles. As experts of secure outdoor bike storage, the Bradford-based engineering team at Asgard have designed a new unit, which is purposely built for cyclists living in busy cities and towns such as London, Manchester and York, where bike storage space can be limited.
The Twin Bike Locker can be personalised to the surroundings as it comes with a choice of 3 colours in Dark Green, Brown and Ivory, and will be available to order from the 23rd August via the company website / at the online retail price of £449 (Free Delivery with the UK*.)
Other methods of securing your bike.