Secured By Design Motorcycle Storage Review
Motorcycle Sport and Leisure Review Asgard Motorcycle Storage
Issue: No. 636, Page 28.
Words: Steve Rose
Photography: Joe Dick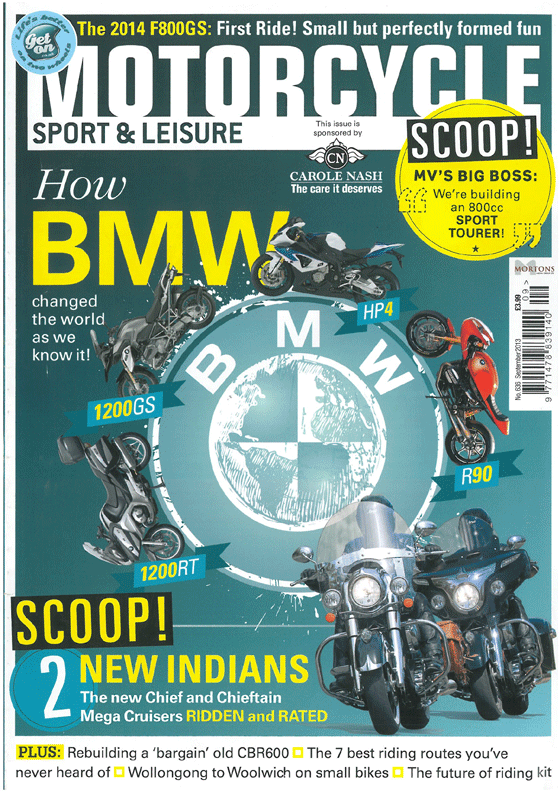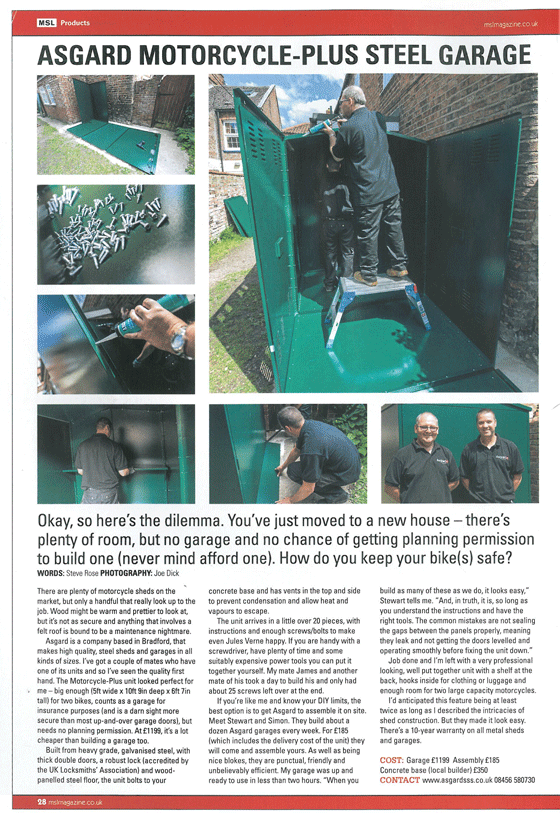 Asgard Motorcycle-Plus steel garage
Okay, so here's the dilemma. You've just moved to a new house - there's plenty of room, but no garage and no chance of getting planning permission to build one (never mind afford one). How do you keep your bike(s) safe?
There are plenty of motorcycle sheds on the market, but only a handful that really look up to the job. Wood might be warm and prettier to look at, but its not as secure and anything that involves a felt roof is bound to be a maintenance nightmare.
Asgard is a company based in Bradford, that makes high quality, steel sheds and garages in all kids of sizes. I've got a couple of mates who have on it its units and so I've seen the quality first hand. The Motorcycle-Plus unit looked perfect for me – big enough (5ft wide x 10ft 9in deep x 6ft 7in tall) for two bikes, counts as a garage for insurance purposes (and is a darn sight more secure than most up-and-over garage doors), but needs no planning permission. At £1199, it's a lot cheaper than building a garage too.
Built from heavy grade, galvanized steel, with thick double doors, a robust lock (accredited by the UK Locksmiths' Association) and wood-panelled steel floor, the unit bolts to a concrete base and has vents in the top and side to prevent condensation and allow heat and vapours to escape.
The unit arrives in a little over 20 pieces, with instructions and enough screws/bolts to make even Jules Verne happy. If you are handy with a screwdriver, have plenty of time and some suitably expensive power tools you can put it together yourself. My mate James and another mate of his took a day to build his and only had about 25 screws left over at the end.
If you are like me and know your DIY limited, the best option is to get Asgard to assemble it on site. Meet Steward and Simon. They build about a dozen Asgard garages ever week. For £185 (which includes the delivery cost of the unit) they will come and assemble yours. As well as being nice blokes, they are punctual, friendly and unbelievably efficient. My garage was up and ready to use in less than two hours. "When you build as many of these as we do, it looks easy" Stewart tells me. "And, in truth, it is, so long as you understand the instructions and have the right tools. The common mistakes are not sealing the gaps between the panel properly, meaning they leak and no getting the doors levelled and operating smoothly before fixing the unit down."
Job done and I'm left with a very professional-looking, well put together unit with a shelf at the back, hooks inside for clothing or luggage and enough room for two large capacity motorcycled.
I'd anticipated this feature being at least twice as long as I described the intricacies of shed construction. But they made it look easy. There's a 10-year warranty on all metal shed and garaged.
Cost: Garage £1199* Assembly £185*
Concrete base (local builder) £350*
Contact: 03456 580730
*Correct at time of writing
---
This review is about the Asgard Centurion Motorcycle Storage. Click here for more information.