Share with a double ended bike Locker
Double ended bike locker - share safely
As one of the most innovative bike lockers available, this unique bike locker can store two bikes independently inside one unit and is the Ideal locker for those wanting to share a locker, but keep their bikes separately for added security.
With its slim design and door access from either end, thisunit is great for fitting at the side of a house or flat.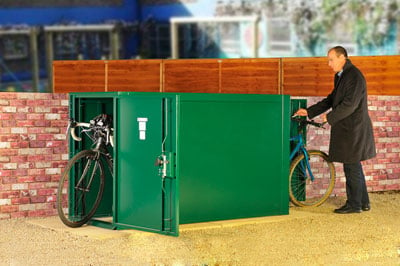 What is the bike locker made from?
The bike locker is made from strong weatherproof steel panels like the rest of the Asgard range, providing the best in bike security.
How does the bike locker work?
The unit allows opening from both ends of the bike locker, withseparate keys, there is a dividing partition in the middle for individual storage. Internal locking points inside the unit offer additional security.
Double ended bike locker customer comments
"Thanks for the short notice delivery, it was a great gift for my children"
"Nice idea, well thought out" Online