Secure Metal Garden Security Shed
Flexistore1522 metal garden shed
As a medium sized garden shed, this unit offers fantastic storage and unbeatable security. This sleek and stylish shed not only looks great, but also keeps your garden items safe and dry. So you don't have to compromise on style Vs security.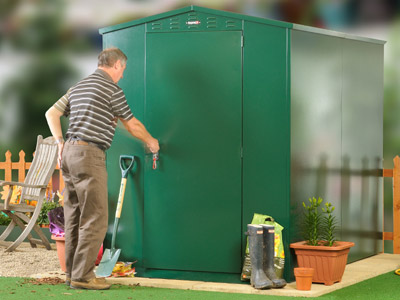 What is the garden shed made from?
Asgard storage sheds are all made from the same strong weatherproof steel and the Flexistore 1522 is no different.
How does the garden shed work?
The Weatherproof steel protects your garden items from the elements, while our tough 3 point locking system protects your items from theft.The unique ventilation system promotes airflow inside the unit and with the purchase of shelves and hooks you can fill your metal garden shed up to the top.
Flexistore 1522 garden shed customer comments
"Delivery was on time and the delivery guys carried the panels across the field to right next to the concrete base for me, then gave me some tips on the quickest way to build, excellent". Nick -Sharks Ladies Rugby Club - Darlington
"We are really pleased with the product and the service you have given. Great to see stuff happening in the uk which is so spot on". John