Metal Garden Shed For Garden Security
Flexistore1533 Metal Garden Shed
Keep your garden furniture and equipment locked up securely in this metal garden shed, offering the best in garden security, in a high quality package.
The Flexistore 1533 not only looks good, but it is good at what it does. With top quality security features and a stylish design. What more could you ask for?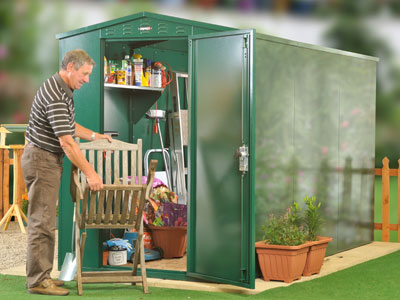 What is the garden shed made from?
Our Flexistore sheds are made from weatherproof steel, to protect your stored items for bad weather.
How does the garden shed work?
The Flexistore 1533 is the largest of the Flexistore garden shed range and it big enough to fit all of your garden items. Fitted with a 3 point locking system and pick resistant locking mechanism, it is one tough cookie and is secure enough to store your most expensive items.
Flexistore 1533 garden shed customer comments
"We are really pleased with the product and the service you have given. Great to see stuff happening in the uk which is so spot on". John
"I was very pleased with the quality of this "UK made" shed and particularly glad that I also purchased the complete accessory pack. I do feel that the wooden floor is a necessary extra as the metal could easily get scratched in use and the extremely sturdy shelves and hooks mean that all the tools can be housed neatly and securely without cluttering up the floorspace." KeithScammell