Scooter Storage Metal Garage
Scooter Garage
Keep your scooter locked away in a secure metal garage. Ride or push your scooter into the garage, approved by the UK Locksmiths Association.
Packed full of security features, you won't find anything tougher to protect your scooter.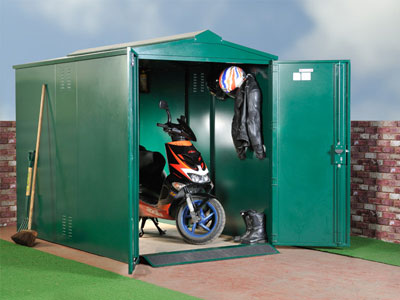 What is the scooter garage made from?
The metal scooter garage is made from robust weatherproof steel, for protection against the elements.
How does the scooter garage work?
Security is a main feature of this metal garage, with a 5 point locking system, additional bolts and a pick resistant lock, making this one of the toughest garages around. An electric mounting plate kit is included, enabling you to add power to your unit. The large double doors and access ramp, make it easy to ride or push your scooter into the garage.