Unbeatable school storage
School storage pack 2 - Unbeatable school storage
Secure all of your valuable, outdoor school equipment in this child friendly school storage unit. As one of our large metal sheds, it comes with a huge amount of storage space.
This school pack includes the delivery and installation of the unit.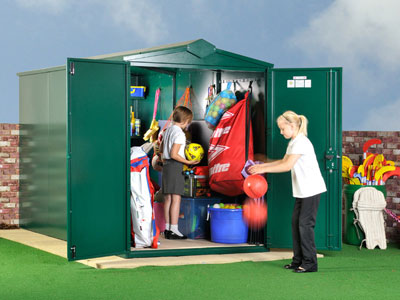 What is the school storage shed made from?
All of our school storage units are made from the toughest weatherproof steel panels.
How does the school storage shed work?
Child safety is of key importance with our school storage units, with this in mind, this school shed has a wooden sub floor for child safety and there are no exposed screws inside the shed. Shelves and hooks are provided to maximise storage space. Unbeatable security is provided by the 5 point locking system and reinforced components.
School storage customer comments
"First of all a big thank you to the Asgard team for the smooth installation of the Gladiator Plus shed and it turned up almost bang on estimated time yesterday - we even had some sunshine tochase away the winter chill".- Geoff
"We have been extremely pleased at Malmesbury School with our Asgard sheds, they are smart, robust and provide secure storage for a wide range of materials".T.G.Headteacher, Malmesbury School
"Our Asgard shed has provided clean, secure and easily accessible storage for our equipment. Installation was quick and efficient. In fact we were so satisfied that we have recently ordered a 2nd."S.B (Headteacher) HATTON SCHOOL
"Asgard sheds allowed us to secure our extensive range of sports equipment in an easy to useannex which has helped both staff and students." K.R IUS Manager Pent Valley Technology College
Learn more about Asgard playground storage