RoadCC Access E Plus Bike Storage Review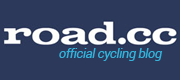 RoadCC: Asgard Access E Plus Bike Storage
Posted: 5 April 2019 by George Hill
View the article on their website.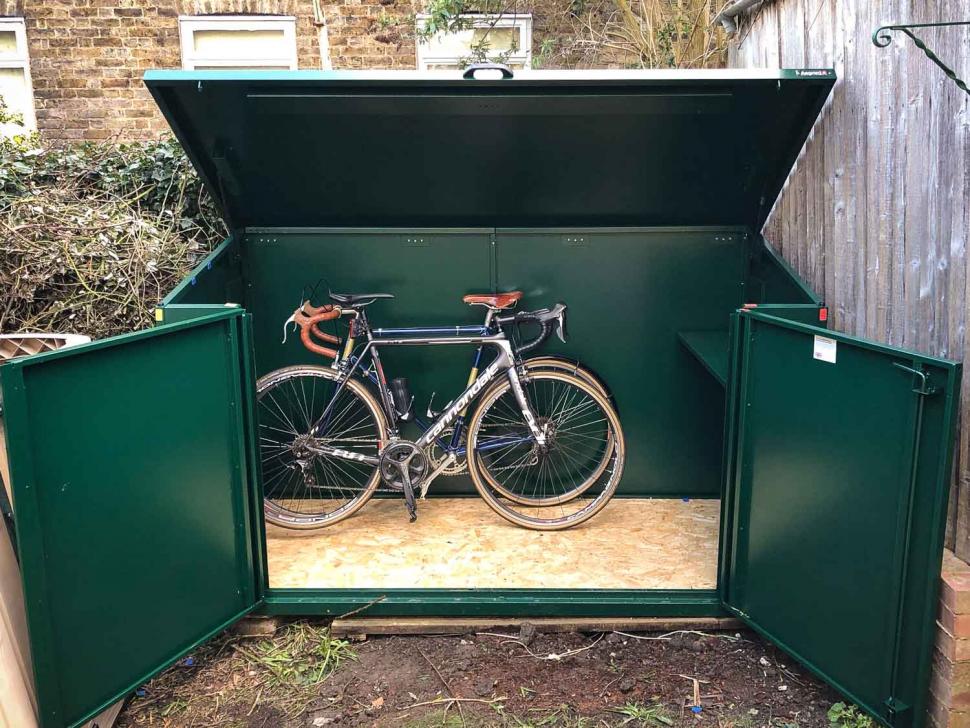 The Asgard Access E Plus Bike Storage is secure, strong and easy to assemble, ideal for e-bikes and regular bikes.
Pros: Easy to assemble, secure, easy to access
Cons: Socket sold separately and requires professional fitting
Living in London as a cyclist has its pros and cons. Pros are that there are hundreds of bike shops on your doorstep and the infrastructure is great; cons are the lack of space to store your bikes. If, like me, your other half isn't keen on you keeping your bike collection indoors, a secure bike shed is the obvious solution.
We've tested a couple of Asgard storage units before on road.cc, and much of what Dave found with the Annexe, and Steph with the bike shed for 29ers applies here.
Initially I felt a bit of trepidation leaving my pride and joy in the garden, but the Asgard is incredibly secure and protects against all the elements. Asgard seems to have thought of everything, with even the hinges at the back being hidden. This security is helped by the two disc padlocks – £19 a pair(link is external), with an impressive 8.5 Heavy Security Rating – being hidden behind two covers that prevent tampering.
A wooden sub-floor was included with our shed (an optional extra for £55), which meant that I could drill loops into it for extra security. The shed itself can also be secured into the ground so those pesky thieves can't just steal the whole thing.
Assembling the shed is pretty simple. I even managed to put it up at the tail-end of storm Gareth without too much issue. The instructions are clear and the only slight issue I had was installing the hinges after I had already placed the shed against my back fence. It arrived in flatpack form on the back of a lorry and came in nine large panels with the optional floor and shelf (£29), plus a big bag of bolts and screws.
The panels are made from a sturdy galvanised steel which, to be honest, I expected to be heavier. They are light enough for one person to move around without too much effort, although I needed help getting the lid in place.
Once assembled, using the shed is easy with a huge amount of access afforded on account of both the lid lifting up and the two front doors opening. It makes putting bikes in or taking them out quick and painless. I particularly like the motion of the lid, with hydraulic telescopic poles both securely holding it in place when open and also making opening it a breeze despite it being relatively heavy.
The Access E Plus Bike Storage is, as the name suggests, designed for e-bikes, from 'E-Bikes that have been designed for the road, to the larger Fat Wheel Electric Mountain Bikes'. This means there is tons of space – for instance, after I had put four road bikes in I could also fit all my tools, pumps and a lawnmower in! If you're not limited by space in your garden/backyard it makes sense as you can store other items in there securely too.
As well as size, another e-bike element of the shed is that it's designed to accommodate an electric socket inside. On both side walls there's a plate to mount a double socket to, a guide for the wiring and a hole to feed it through. It requires an electrician to connect, and you'll need to buy the socket separately, but once done means you have the convenience of being able to charge your e-bike overnight without having to bring the battery (or bike) indoors. You also have a socket you can plug lights into, or your electric lawnmower...
The original RRP of the shed was £685, but it's been reduced to £575 (plus £19 for the padlocks). This puts it around about the same as similar sheds, but you are getting a great level of security along with a large amount of storage space. For instance, the Cycle Republic Bicycle Store(link is external) is £559 but only holds three bikes, while the Trimetals Protect-A-Cycle Metal Shed(link is external) is £650, but again only holds three bikes.
Overall I was very impressed with the Asgard Access E Plus. It was easy to put up, it's big enough for most uses and it's also incredibly secure. Fitting the socket involves a little extra cash, but aside from that there is very little not to like.
Verdict
Strong and secure, with the convenience of being able to add power
---
Road.CC Test Report
Make and model: Asgard Access E Plus Bike Storage
Size tested: 2234 (W) x 1053 (D) x 1340 (H)
Tell us what the product is for and who it's aimed at. What do the manufacturers say about it? How does that compare to your own feelings about it?
This is a secure bike shed designed for ebikes and particularly 29ers.
Asgard says:
Store and Protect Your Electric E bikes. The Access E Plus is a large all metal storage shed that has been designed to protect your E-Bike. Made from weatherproof steel, weighing over 19 stone, and coming with a whole host of security features to protect your high-value Electric Bike; this storage unit will ensure your peace of mind when storing your Electric Hybrid Bike outside of the home.
Storage for up to 3 Electric Bikes
Up to 3 Electric Bikes can be stored in this shed; (Please check the size of your bikes before purchase) from E-Bikes that have been designed for the road, to the larger Fat Wheel Electric Mountain Bikes; this spacious unit provides an excellent solution to storing your bikes under lock and key, and out of harm's way from bad weather and opportunist thieves. At the front of this E-Bike storage shed you'll find easy access via the heavy-duty double-doors, which provide a massive 5ft 3 opening. You'll also find a reinforced easy-lift top-opening-lid (gas lift) all secured with heavy duty locking shrouds and a door deadbolt. Providing excellent access, but incredible bike security.
Each of the panels that complete the structure of this Electric Bike shed is made from heavy-duty, galvanised steel. Even the integral floor is made of heavy-duty galvanised steel, meaning that the unit cannot be penetrated from the ground up. For additional security the Access E can be bolted to the ground using the supplied fixing bolts, giving unrivalled bike security.
Electric Bike Charging
Either side of the Access E is a mounting plate, designed to allow you to mount electric sockets* for battery charging. At the base of each side is a convenient access hole with a rubber grommet, allowing you to feed cables from outside into your bike shed into the sockets, allowing you to charge your bikes as the unit is fully locked.
With electric bicycles becoming ever more popular amongst commuters and those interested in a cheap, economical and environmentally friendly method of transport, there is a greater demand for places to securely store these items, with the average E-bike costing in excess of £2000, such a bike is highly prized by thieves.
You can further increase the storage capacity of the Access E Plus, by adding Asgard bike shed accessory packs, such as hooks and shelves. The Access E Plus has been designed and made in the UK and is supplied with a free 10 Year Warranty. Free delivery to most of the mainland UK is also available.
*Optional extra.
Please note:
- Asgard do not fit the electric sockets as part of the installation option.
- A professional, qualified electrician should be contacted when installing electrical equipment.
- The electrical sockets and wiring are not provided as part of this package.
Tell us some more about the technical aspects of the product?
From Asgard:
Store and charge E-bikes - store up to 3 electric bikes. A hard wearing bike storage shed built from heavy duty steel – with a galvanised construction.
122kg in weight (19 stone) - compare the weights of our bike storage to other bike sheds!
All Asgards are made in Britain - manufactured in our Yorkshire based facility.
Free Asgard 10 Year Warranty - the Access E Plus comes with a 10 year warranty as standard .
Bike shed ventilation system - allowing airflow inside reducing condensation.
Shrouded, twin lock system (8.5 Heavy Security Rating).
Huge reinforced double door access with lift up lid - easy access.
Excellent access - large reinforced lift up lid.
Integral metal base - includes free fixings to secure to a concrete base.
Wooden subfloor available – to protect the integral metal base from scratches.
Pre drilled for our shelving packs – store maintenance equipment
Hang your back packs and helmets on our hook packs - additional storage.
Electric mounting plate included - fix electrics inside the unit for charging your bike.
No dangerous sharp edges inside - screw ends are hidden inside the shed.
Simple, self-assembly - using the illustrated instructions.
Rate the product for quality of construction: 9/10
Really well made with thought put into how to keep the shed as secure as possible.
Rate the product for performance: 9/10
It's very secure and straightforward to use. The fact that I could put it up in under two hours was also a highlight.
Rate the product for durability: 9/10
It's a high quality shed made from galvanised steel.
Rate the product for value: 6/10
It's a similar price to other sheds on the market, but offers a more sturdy construction and a larger capacity.
Tell us how the product performed overall when used for its designed purpose
Very well. It has kept my bikes secure and protected, it was a cinch to construct, and fits everything I could possibly need inside it.
Tell us what you particularly liked about the product
The simplicity of construction combined with security is a real highlight; you wouldn't think that you could make a flatpack product as high quality as this.
Tell us what you particularly disliked about the product
That you need an electrician to connect the socket, which you have to buy separately... but aside from that there is little not to like.
How does the price compare to that of similar products in the market, including ones recently tested on road.cc?
The Cycle Republic Bicycle Store is £559 but only holds three bikes. The Trimetals Protect-A-Cycle Metal Shed is £650 but again only holds three bikes.
Did you enjoy using the product? Yes
Would you consider buying the product? Yes
Would you recommend the product to a friend? Yes
Use this box to explain your overall score
A big, secure, easy-to-assemble way to store your bike. After initial trepidation at the idea of leaving my bikes outside when I saw the panels being delivered, after it was constructed I felt more than happy to do so. Given how precious I am about them, this is a real endorsement.
Overall rating: 9/10
---
This review is about the Asgard Access E Electric Bike Storage. Click here for more information.