Power tools for the garden
Gardening Power Tools
Again, we have trawled the internet for the best in gardening tips, here are a few tips on power tools.
Gardening a flower bed or vegetable patch requires plenty of hard labor. Power tools make this task easier and in many cases, more enjoyable for the gardener. Power tools tackle the toughest tasks in the garden ranging from tilling soil to clipping hedges. The host of tools available allows the homeowner to perform many tasks quickly. Always take proper precautions in the form of wearing protective eye wear and clothing when using gardening power tools.
Power Edger
Nothing finishes the landscape as much as the crisp line between a flower bed and the yard. Power edgers perform this task with the use of rotating blade that quickly and neatly cuts down errant blades of grass. Power edgers feature guidance rollers to control the straightness of the line along the garden edge. Options include both electric and gas driven models for use on very large properties or for commercial landscapers.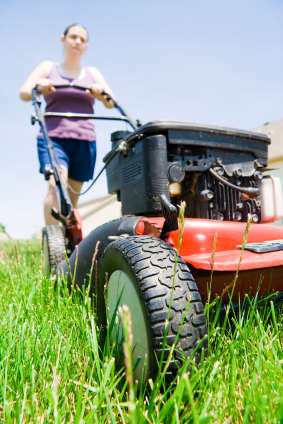 Rototillers
Turning over an entire garden bed by hand presents a backbreaking, time-consuming task for the gardeners. Rototillers feature hooked blades that rotate on a central wheel. The blades gouge deeply into the soil, lifting and mixing the dirt in preparation for planting. This useful garden power tool makes quick work of dry, tough soils. Rototillers range in size from small models to very large versions with wide-toothed blades.
Hedge Clippers
Hedge clippers allow the gardener to prune shrubs and plants throughout the landscape. Most models feature electric-driven engines although commercial landscapers use gas-powered models. Electric hedge clippers have widely-spaced teeth that vibrate back and forth to slice through thin branches.
String Trimmers
Homeowners might believe that a string trimmer only serves as a lawn tool. In reality, these handy power tools work in the garden as well to tackle thick weeds and overgrown grass areas. String trimmers typically feature electric driven motors. The cutting base of the unit includes a safety dome over a wheel that spins at high velocity. A spool of thick plastic twine attaches to the wheel and forms the cutting surface as a length of the line spins rapidly.
Leaf Blower/Vacuum
Gardening power tools also include machines that assist the homeowner in preparing gardens for the winter. Leaf blowers provide a quick way to remove dense piles of leaves from the interior portions of planting beds. Leaf blowers often feature gasoline engines and a long plastic attachment to direct airflow to blow leaves into piles. Manufacturers provide both backpack models and others with straps for holding the weight of the leaf blower across the shoulder. Some models also provide a nifty feature to reverse airflow to convert the blower into a vacuum. These models include a catch bag that can be emptied when needed.
Be Safe With Your Power Tools
Read more: Gardening Power Tools | Garden Guides http://www.gardenguides.com/104540-gardening-power-tools.html#ixzz24M4ZhW6y
Once again thanks to garden guides website for quick and simple information.