Pedelecs Access E Plus Bike Storage Review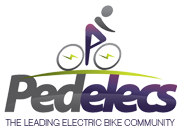 Pedelecs - Safe outside storage for electric bikes
Posted: March 14, 2018
View the article on their website.
With many electric bikes costing upwards of a £1,000, keeping them safe and secure is an important consideration once you've got them home. Add in a spare battery costing hundreds of pounds and the traditional garden wooden shed starts to look less than ideal as a place to keep your shiny new purchase.
At home, we have a pile of family bikes blocking up access to much of the garage and somehow an ankle always seems to connect with a bike pedal – with appropriate expletives – when navigating around them (why is everything always at the back?), so it was with some relief when Andy from Asgard asked us if we'd like to review their new e-bike storage shed, the Access E Plus.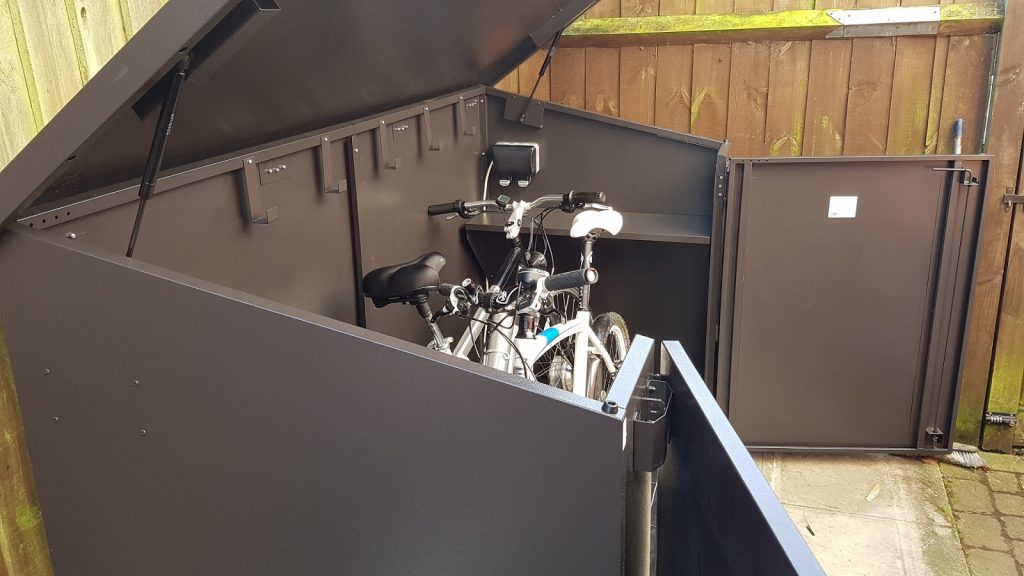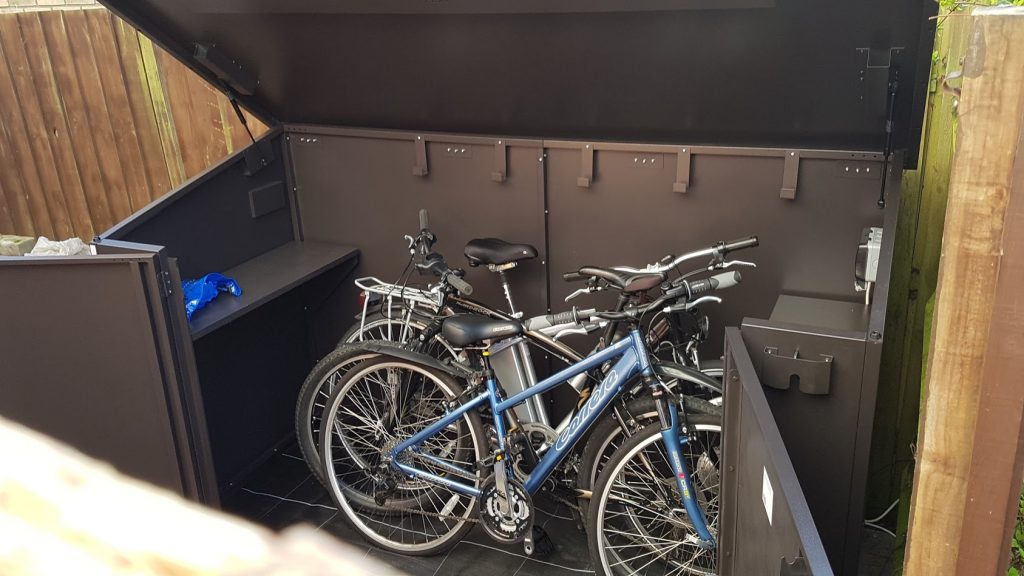 Who is Asgard?
Asgard is a well-established manufacturer of steel storage solutions and have a number of sheds of differing sizes aimed at storing bicycles.
Retailing at £685 (though it's currently priced at £575), the E Plus promises to provide enhanced security and safety for your pedelecs. Since electrics can be added inside, the bikes' batteries can also be charged while stored.
The sheds are manufactured in the UK using galvanised steel and there's a choice of 3 colours (green, brown or ivory). Each shed is backed by a 10-year warranty.
Delivery
The E Plus comes directly from Asgard with free delivery to mainland UK.
If you don't feel comfortable assembling it yourself, they will also install it for you, though this will add another £150 on top.
What's in the box?
Actually there is no box! Asgard deliver the shed panels loose without any packaging (for their environmental aims). You also get a large pack of fixings and printed instructions.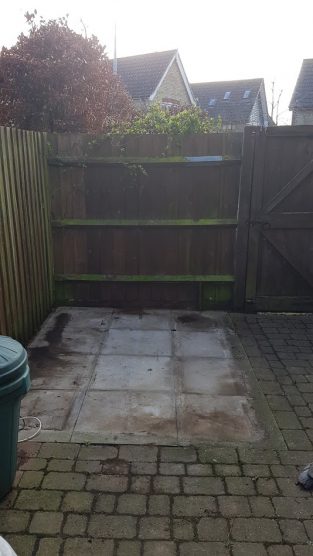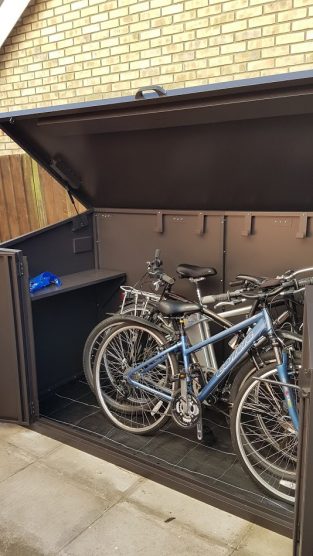 Assembly
The instructions recommend that assembly of the bike shed is a 2 person job; unfortunately I was on my own but the only slightly difficult part was lifting the lid on top. It shouldn't take more than a couple of hours or so and all you need is a hand screwdriver for the door hinges (important), an electric screwdriver for everything else (your wrists will thank you for it!) and a 10mm spanner. Also provided are some levelling shims for the corners of the shed if the base you're putting it onto is uneven.
Ideally leave enough standing room around the sides to route cables for the electrical socket installation when you position the base panel.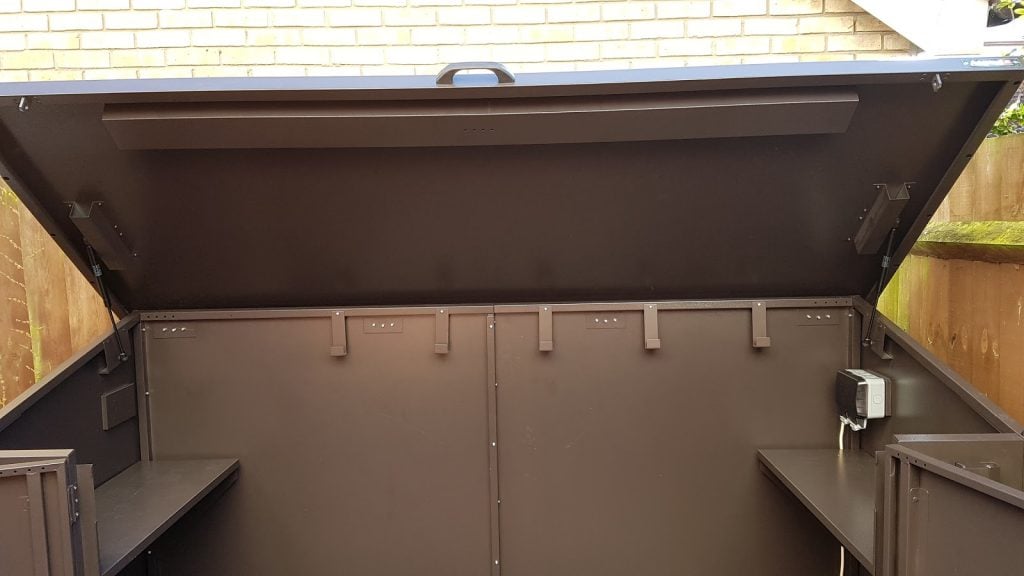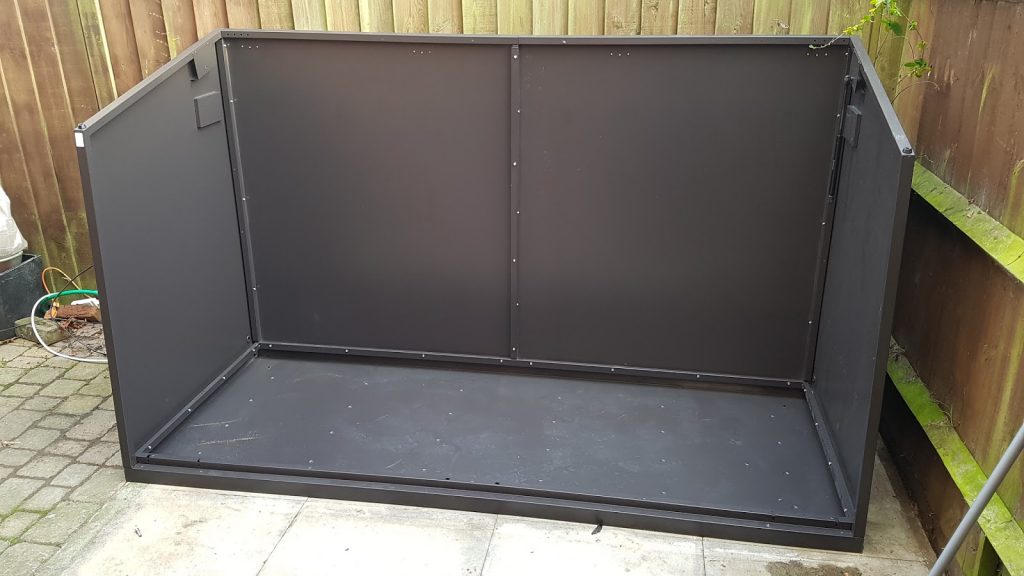 I found assembly quite straight-forward, with most of the clearly labelled panels easily slotting into one another with the screws supplied, although the side panels needed gentle encouragement from a rubber mallet. This was to ensure the lip butts up to the base – a little tap and they popped into place however.
The front doors are hinged to smaller panels on either side, with metal supports screwing the front and side panels together.
Once those are all in place, the top panel fits to form the roof, with the two front-opening doors physically held into place when it's down.
All of the fixings are internal, so there is nothing accessible from the outside, which helps with the general appearance and more importantly makes it more difficult for thieves to gain access.
The base section has four mounting points – for extra security the shed can be anchored into the ground using the supplied screws. If you don't fix it, you'll need to insert the 4 rubber bungs to keep water out from underneath. Although at 122kg for the shed, plus several e-bikes, that should make it difficult to move anyway!
Asgard have thoughtfully added a pair of gas lifts to make lifting the lid a breeze, as well as keeping it up when open.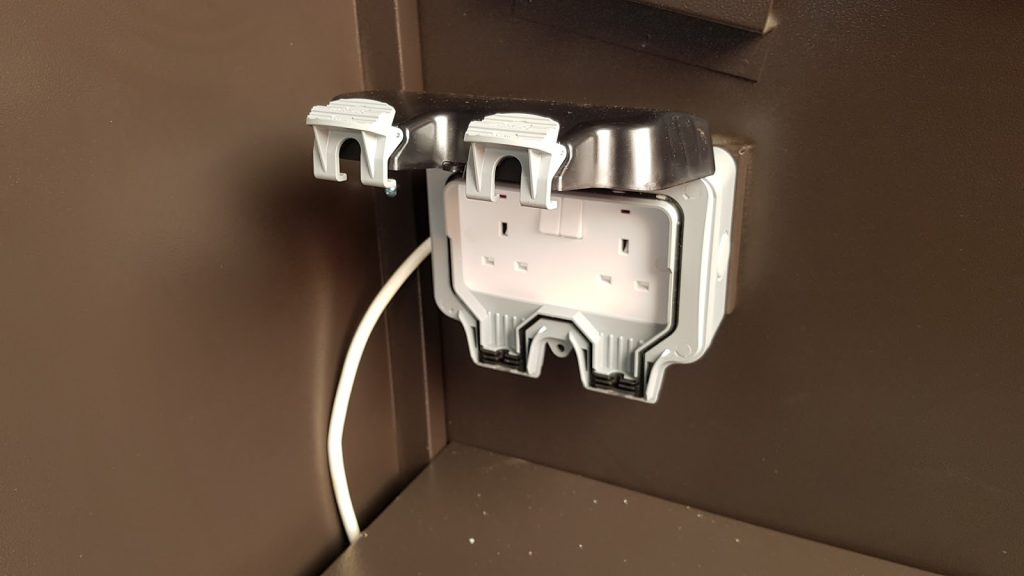 Fitting the electrics
Each side panel has a rubber-encased hole at the bottom where you can feed in the electrical cable. This then runs up the inside to the power box. While assembling the unit I didn't realise until the end that I had a couple of spare pieces which were actually meant for the cable to pass through to stop bikes etc catching on it.
Both side panels also have a welded mounting plate onto which a standard, weatherproof outdoor 2 gang socket should fit. With the usual caveat of "if you are not sure what you are doing, consult a qualified electrician" out the way, I found it pretty straightforward enough.
Asgard don't supply the sockets themselves but they are available from all the main DIY stores or electrical wholesaler for around £13.00 each.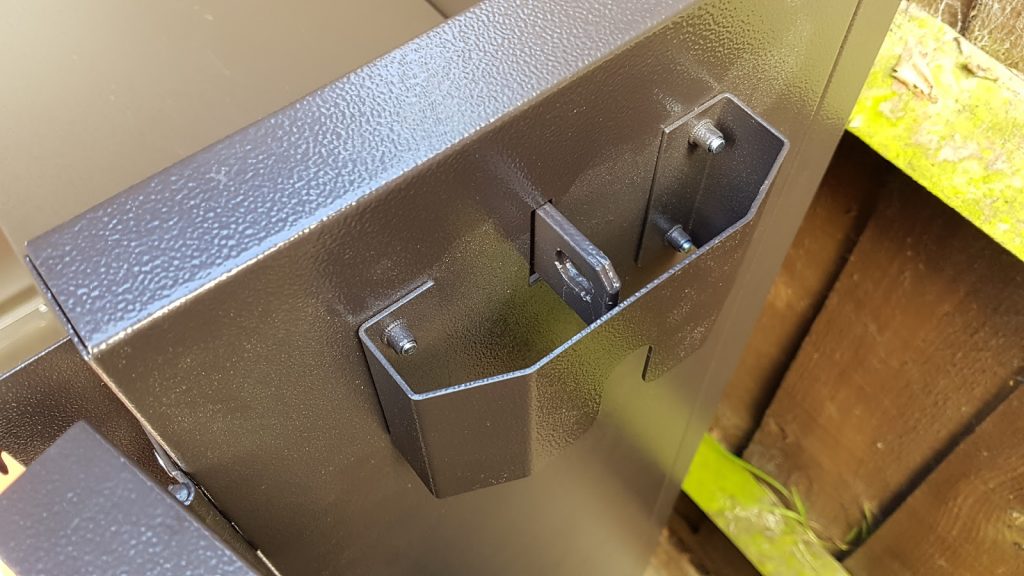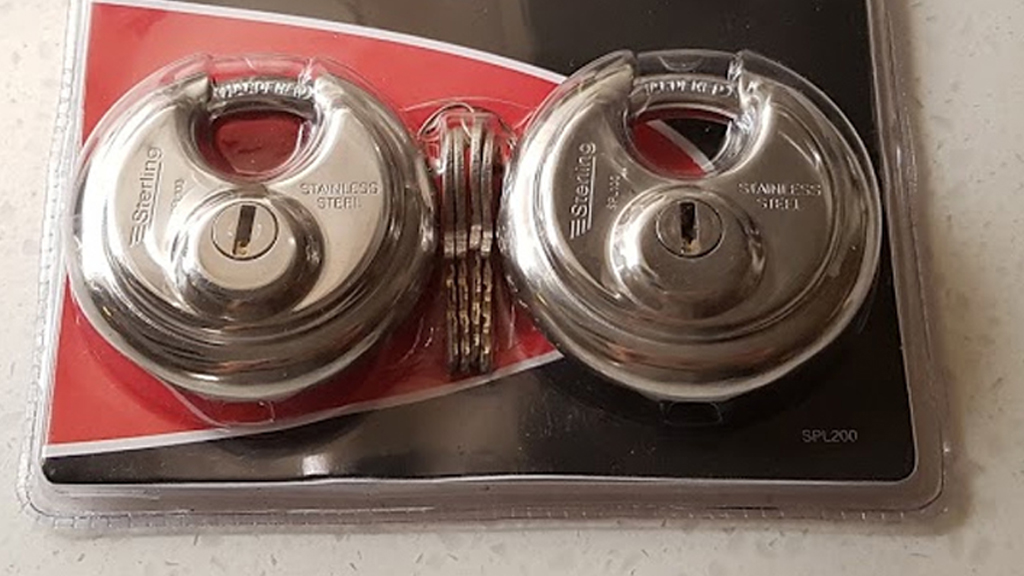 How secure is it?
When assembling the unit, I wasn't sure whether just a few small screws would be enough to prevent someone getting into the unit. However, once the lid is down it really is a solid unit.
Both locking points are covered by thick steel shrouds and secured by a pair of (optional) disc locks. Once fitted, only the key portion is visible so it would be very difficult to get any bolt cutters near them.
The two doors at the front are secured by a deadbolt on the right door.
Being galvanised steel, it can be quite noisy (both to assemble and use) but from a security point of view I think this is actually a good thing as it should alert you or your neighbours if someone is trying to get into it. Andy from Asgard told me "the noise made getting into one of these is incredible.." and I believe him!
Product specification
Caters for up to 4 bikes + accessories
Galvanised steel construction
Weight: 122 Kg
10 Year Warranty
Shrouded twin lock system
Integral metal base
Length: 2306mm (inc lid)
Depth: 1053mm (inc lid)
Height: 1140mm (front), 1340mm (rear)
Height with lid open: 1960mm
Colours: Green, Brown or Ivory
Delivery free to mainland (some harder to reach areas may incur a surcharge)

Optional accessories
Shelf pack (x2) @ £12.00* for a pack of 5
Disc padlocks @ £19.00* for a pack of two (share the same key)
Wooden floor @ £55.00*
Shelf @ £29.00 each*
In summary
If your base area is already prepared and you have two pairs of hands, I would say you should easily be able to install it in a couple of hours.
It is a good size. The E Plus can comfortably fit four bikes or pedelecs inside, although you might need to loosen and turn the handlebars sideways.
The optional shelves provide additional storage space as well as somewhere to lay your charger or battery.
You can also get optional hooks to hang up helmets or other items. There is still plenty of space at floor level.
With the lid in place, the whole unit feels very secure and should stop all but the most determined thief.
At the time of writing this, we've had snow and persistent rain in last couple of weeks – but the inside remains dry.
In terms of maintenance, all you should need to do is give it a wipe down occasionally.
I placed some matting inside to protect the floor but I've since seen on Asgard's website that they also currently supply a wooden base.
A mounting point for a striplight on the inside of the lid would be a useful addition for the dark winter months. I found some battery-operated striplights online for just over a tenner, plus a PIR, which is useful to activate the lights automatically when you lift the lid.
I did find the instructions were a little confusing in places, particularly with two cable routing pieces which weren't explained the manual I was provided with. Andy at Asgard has assured me it will be updated when the unit goes into full production.
Our verdict
For keeping expensive electric bikes outdoors, the Access E Plus offers a very secure and weatherproof solution and I can see a lot of thought and refinement has gone into making them. It's not cheap, but quality is high and when you consider there could be a few thousands pounds worth of bike inside, it's probably the next best thing to keeping your e-bikes by your bedside. A big thumbs up from us.
Where to buy?
The Access E Plus is available directly from Asgard via their website: http://www.asgardsss.co.uk/access-e-plus
*Correct at time of writing
---
This review is about the Asgard Access E Electric Bike Storage. Click here for more information.