Motorcycle Security Garage
Metal Motorcycle garage unit
The only UK Locksmiths Association Approved motorcycle storage unit available in the UK. Our motorcycle garage offers incredible security in a great value, well thought out storage package. So why settle for less?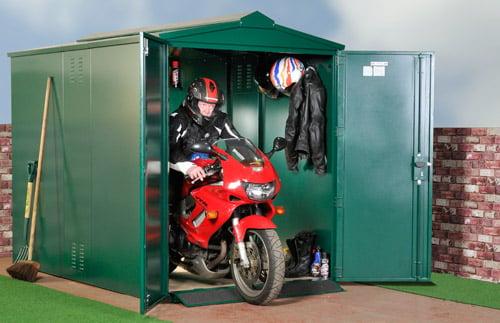 What is the metal motorcycle storage made from?
The motorcycle garage is made from thick, weatherproof steel like the rest.
How does the metal motorcycle storage work?
Maximum security features keep your motorcycle locked up safely. A 5 point locking system, pick resistant lock, reinforced panels and additional bolts make up this monster of a garage. The included ramp allows you to ride your bike into the garage, while the ventilation system lets gasses and bike fumes escape.
Motorcycle storage customer comments
"I am extremely pleased with the bike garage. Build quality is brilliant and it was all assembled nicely by the team of installers". - Mr Benson
"Great product! Easy to assemble, build completed in 1hour 40 mins, love the design-simplicityin it self!" -R.Bleeckee
"It's rare to find a company who will pick up the phone to pro actively resolve something rather than resort a long string of emails"- Alex
Do you want to know more about the Asgard Motorcycle Garage?