More Asgard Customer reviews for bike storage
Access Bike Shed Review.
If you are loking to store 4 road bikes in a safe and secure shed, then consider the Access bike storage shed from Asgard. A heavy duty, weatherproof construction and level 8 rated padlocks this is a very secure method of keeping your bikes. Read our case studies (here) and customer comments for more information.
"I have been very impressed with my Asgard Bike Storage Unit. It was easy to order and it was delivered to my house before the stated delivery time (by at least a week!) which was good. When it came to the assembly it needed 2 people but this was no surprise as we knew this from the website when we ordered. The assembly was very easy with good instructions. I was very impressed with the standard of manufacture as every hole for every screw lined up perfectly! Not once did we have to put a screw in slightly squint to make it match the corresponding hole. It has since kept our 2 adult bikes, 2 kids bikes, 2 scooters and a pressure washer secure and dry even in the recent awful weather. Using it is very quick,easy and convenient".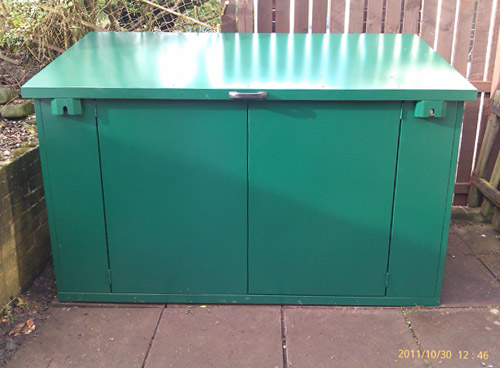 "It wasn't cheap but I think it is well worth the money and I have recommended to several of my friends and got quite a lot of interest when I proudly posted a picture of it on Facebook! I have attached a picture of it completed and in place. I hope you find this feedback helpful and feel free to use it on your website (let me know if you are so I can have a look!) Merry Christmas and a happy New Year from one very happy customer!" - David